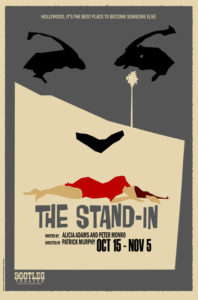 THE STAND-IN
OCTOBER 14 – NOVEMBER 5, 2016
THE BOOTLEG THEATER
LOS ANGELES, CA
If you are a fan of film noir, than you know it doesn't get any better than DOUBLE INDEMNITY. Directed in 1944 by Billie Wilder and written by Wilder and Raymond Chandler, DOUBLE INDEMNITY was based on a novel by James M. Cain and tells the story of an insurance salesman who falls for a married woman who wishes her husband was dead.
The term DOUBLE INDEMNITY applies to the rare case when death occurs under unusual circumstances.
The story is cinematic genius, considered by some to be the greatest piece of film noir in American history. But what if there was more to the story?

THE STAND-IN is written by Alicia Adams & Peter Monro and directed by Patrick Murphy.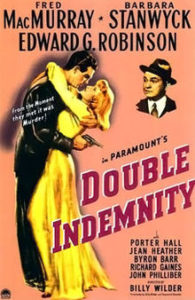 The play runs from October 14 through November 5th at the Bootleg Theater in Los Angeles. THE STAND-IN looks behind the scenes of "Double Indemnity."
THE STAND-IN focuses on two WW2 exiles – Billy Wilder, the picture's director, and Kasia, an enigmatic young woman – and their struggle for identity as foreigners while the film is written, shot, and premiered in a strange new land: Los Angeles 1944.
Appearing like a siren, Kasia washes onto a beach, only to be rescued by the cinematographer Max. The two quickly fall into an affair as he hires Kasia to work on set.
While their passion is genuine, Kasia's ambitions in Hollywood challenge the strength of their relationship. Meanwhile, Billy Wilder acts as ring-leader, guiding everyone on set in an effort to create one of the greatest films ever made.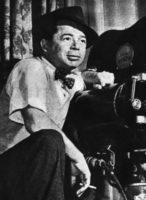 Tickets are available on the theater website, bootlegtheater.org. You can find a link to them on the Noir Factory's home page. But if you are in the Los Angeles area or plan to be, head over to TheNoirFactory.com and leave a comment on our article of THE STAND-IN for a chance to win two free tickets.
Tickets will be given away on October 14th, 2016, so leave your comment ASAP.
Experience a darkly compelling story set against one of the greatest noir films ever made, and do your best not to get lost in the dark!
---