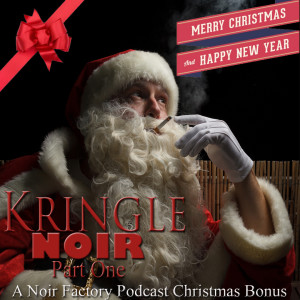 Merry Christmas and a Happy New Year from the Noir Factory…You Mugs!
Our bonus two-part Christmas story staring the Noir Factory's unnamed detective. Consider this bit of fiction a break from our normal programming.
Next time, we'll be back with a real-life bad Santa, but in the meantime, spike some eggnog and enjoy….
PART ONE / CHAPTER ONE
When I was a kid Christmas was a big thing. My brothers and I used to hang stockings up near the fireplace, sing songs, and pretend to sleep while mom and pop gave Santa a helping hand.
Sometime around three in the morning we managed to actually fall asleep, and when we woke we found a Christmas tree flush with presents that, while maybe weren't what we'd asked for, were exactly what we wanted. Pop took the day off and mom cooked a goose.

The kids took turns swiping toys from each other, screaming, laughing, and creating the kind of ruckus that kids can only get away with on Christmas day.
It was a great time to be a kid, but I was no longer a kid.
Yeah, all right, it was still a great time of the year.
I got to my office and found a note from Jimmy Two-Fingers, a criminal and reprobate I had known for most of my life. It said to meet him that evening in the city square at eight o'clock sharp and hinted that he needed help. It also asked me to bring the fifth of bourbon that I kept in the bottom drawer of my file cabinet, filed under "N" for "Necessity."
Jimmy might have been a reprobate and a criminal, but he was also a friend, and he knew me well.
---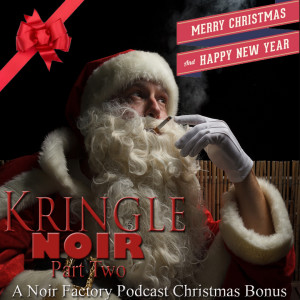 PART TWO / CHAPTER FOUR
It took me a while to catch up with Mike McCarthy. He was the Special Investigator for the District Attorney, which meant that he played catcher to all the screwballs that came across the court system.
If a crime was reported or investigated, he knew about it. The only variable was that not all of the crimes in the city were reported or investigated.
If you knew the system under the system, you could get something buried so deep that it turned to crude oil.
******
You can get your FREE eBook version of Kringle Noir on Amazon and Kobo. If you would like to share the story over the years, as well as help support the Noir Factory, you can order your paperback version of Kringle Noir at Amazon.