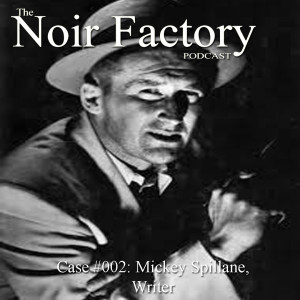 He was born on March 9, 1918 in Brooklyn, New York and raised in Elizabeth, NJ, in a neighborhood he called "grimy, industrial, and working class." It was exactly the kind of neighborhood you would expect a tough-guy to grow up in.
Mickey Spillane was christened Frank Morrison Spillane by his Protestant mom, Catherine Ann. Apparently his Catholic father, John Joseph wasn't having any of that. Whether he didn't care for the name "Morison" or simply forgot his son's middle name we'll never know, but he was baptized as "Frank Michael Spillane.
Not that that either name mattered.
His father nicknamed his son "Mick" after his Irish heritage and the name stuck. Besides, as the man said later "women loved the name 'Mickey.'"

SOURCES:
Mike Hammer. (n.d.). http://www.thrillingdetective.com/hammer.html
Authors and Creators: Mickey Spillane. http://www.thrillingdetective.com/trivia/spillane.html
Spillane, M. (2015). I, the jury. S.l.: Orion.
Hopwood, J. (n.d.). Biography. http://www.imdb.com/name/nm0818765/bio
Brnstein, A. (2006, July 18). Mickey Spillane; Tough-Guy Writer Of Mike Hammer Detective Mysteries. http://www.washingtonpost.com/wpdyn/content/article/2006/07/17/AR2006071700990.html
Follow us on Facebook to suggest episode ideas, comment on our blog, and if you feel up to it, leave a review on iTunes.