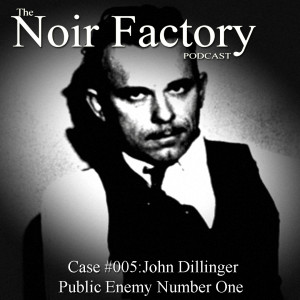 In the 30's, the FBI used the term "Public Enemy Number One" as a designation of infamy. Although that period in time became known as the "Public Enemy Era," there were only three people actually held that designation.
The first one wore the title like a crown.
John Herbert Dillinger was born in Indianapolis, Indiana on June 22nd, 1903. His father, John Wilson Dillinger, owned a small grocery store. His mother, Mary Ellen, died from a stroke when he was three.
His sister, Audrey, was fourteen years older than John and the responsibility of caring for the child fell to her. She carried on with that responsibility until she married and moved out to begin her own family.
That left John Wilson Dillinger to raise his son on his own, and raising kids wasn't his strong suit.
Accounts of John Dillinger's childhood vary. His father was at times abusive and at other times gracious, lavishing money on his son for toys and treats. Those same accounts vary on John Dillinger's behavior.
Some say that the young Dillinger was a well-behaved child with a precocious streak. Others point to his childhood gang, the Dirty Dozen and their purchase for mischief. He also gained a reputation as a baseball player. For most of his life, John Dillinger would walk the line between fame and infamy.
By the time he reached his teenage years, he was on his way to becoming his own man.
But he was a HUGE character, and the more I read about him, the more a part of me wanted to see him succeed.
In his heyday, most people did.

SOURCES:
Matera, D. (2007). John Dillinger: The Life and Death of America's First Celebrity Criminal (Barnes & Noble ed.). New York: Barnes & Noble.
Toland, J. (1995). The Dillinger Days. New York: Da Capo Press.
John Dillinger. (2010, May 21). https://www.fbi.gov/about-us/history/famous-cases/john-dillinger
John Dillinger Biography. (n.d.) http://www.biography.com/people/john-dillinger-9274804