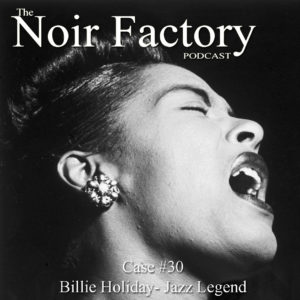 "Behind me, Billie was on her last song. I picked up the refrain, humming a few bars. Her voice sounded different to me now. Beneath the layers of hurt, beneath the ragged laughter, I heard a willingness to endure. Endure- and make music that wasn't there before." – Barack Obama
The woman who would be Billie Holiday was born Eleanora Fagan in Philadelphia on April 7th, 1915. In her autobiography Lady Sings the Blues, written with William Duffy, Billie said that her parents were "just a couple of kids" when they were married. She said that her father was eighteen at the time, her mother was sixteen, and that she was three.
In reality her mother and father were never married, never lived under the same roof, and her mother nineteen when she met Billie's father, who was himself only seventeen.
Lady Sings the Blues is littered with inaccuracies and misquotes. The book was written quickly, from conversations between the two writers, Billie telling William Duffy stories of her life. He was interested in getting her story, what she felt, and was less interested in fact checking.
And in this case, that's fine. We may slip over a lyric or two, but the melody of the song, the voice, IS clear and true, and it really tells us everything we need to know about Billie Holiday, the immortal Lady Day.

Billie's father, Clarence Holiday, was jazz musician, a banjo and guitar player, who abandoned his family to pursue his musical career. Clarence went onto small fame, backing up the likes of Fletcher Henderson, but he was never more than an infrequent visitor in the life of his daughter.
That left young Eleanora in the care of her mother, Sarah Julia Fagan, or Sadie. Sadie was nineteen years old when her parents threw her out of their Baltimore home for becoming pregnant. With nowhere else to turn, Sadie and Eleanora moved to Philadelphia where she arranged for Eleanora to stay with her half-sister, Eva Miller. Miller was older and married, and looked after Eleanora while Sadie found work on passenger trains and found that work took her away from Eleanora for long periods of time.
When Eva couldn't look after young Eleanora, she was shuffled around from home to home.
In Philadelphia, Eleanora frequently skipped school and was eventually taken before a juvenile court where she was placed in The House of the Good Shepherd, a home for troubled young black girls.
Billie was nine years old at the time.
SOURCES:
Szwed, J. F. (2016). Billie Holiday: The Musician and the Myth. NY, NY: Penguin Books.
Clarke, D. (2002).Billie Holiday: Wishing on the Moon. Cambridge, MA: Da Capo Press.
Holiday, B., & Dufty, W. (2006). Lady Sings the Blues: 50th Anniversary Edition. New York: Harlem Moon.
Billie Holiday. (2017, April 28). https://www.biography.com/people/billie-holiday-9341902
Billie Holiday. (n.d.). http://www.fembio.org/english/biography.php/woman/biography/billie-holiday/