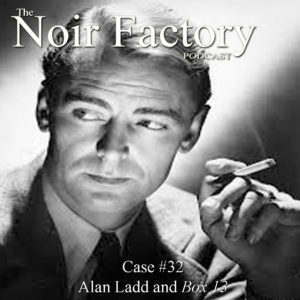 "I'm the most insecure guy in Hollywood. If you had it good all your life, you figure it can't ever be bad, but when you've had it bad, you wonder how long a thing like this will last." – Alan Ladd
Alan Walbridge Ladd was born on September 3rd, 1913 in Hot Springs, Arkansas and was the only child of Ina Raleigh and Alan Ladd. Like most of the characters Ladd went onto play, his upbringing was rough and growing up was a constant struggle.
The family lost Alan's father, a freelance accountant, to a heart attack when Alan was only four. Shortly afterwards the family apartment was lost when Alan accidentally burned it down playing with matches.
After they lost their home, Alan and his mother moved to Oklahoma City where she remarried. Afterwards they went to Pasadena, in a Grapes of Wrath-like journey, where his stepfather found short-time work painting movie sets. Later in life, Ladd said they existed for long periods of time on nothing but potato soup.
Throughout Alan Ladd's childhood he and his mother battled times of homelessness and sever hunger. Alan, who was always undersized, was said to have suffered from malnutrition. Growing up, he was labeled with the nickname "Tiny,' a nickname he hated.

In California, to help make ends meet, Alan worked various side jobs, such as picking fruit, sweeping floors, and delivering newspapers.
In high school he excelled at track and field as well as swimming and by 1931 he was seriously training for the Olympics when a injury ended his athletic career.
After receiving advice to peruse acting from a high school teacher who directed him in The Mikado, Ladd found work as a grip at Warner Brothers. It was a job that paid $45 a week and at the same time, he was also studying acting at Universal Pictures, thanks to a donation from a friend. To help out, he opened a hamburger stand and inexplicably named it "Tiny's Patio," for the childhood nickname he hated. He also married his girlfriend Midge in 1936, but the two couldn't afford to live together, so they waited until Alan managed to save enough money. Eventually the couple, along with Alan's destitute mother, moved in with a friend.
By then the couple had a child, Alan Jr. At the same time Alan's mother was suffering from alcoholism. A few months later Alan saw his mother die by her own hand after taking ant poison.
Tiny's Patio closed but Ladd was studying voice acting and it was starting to pay off. He was getting radio work on programs like the Lux Radio Theater. He started making a bit of money from his craft and it was during this time that he was, as they say "discovered."
SOURCES:
Nyhagen, D. (n.d.). The Box 13 Radio Program. http://www.digitaldeliftp.com/DigitalDeliToo/dd2jb-Box-13.html
Linet, B. (1979).Ladd. The Life, the Legend, the Legacy of Alan Ladd: A Biography. New York: Arbor House.
Alan Ladd Profile. (n.d.). http://www.tcm.com/this-month/article/161109%7C0/Alan-Ladd-8-12.html