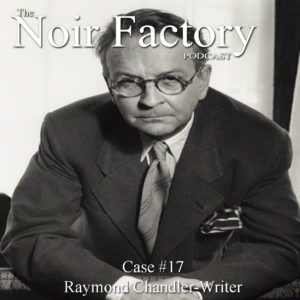 "Down these mean streets a man must go who is not himself mean, who is neither tarnished nor afraid. He is the hero; he is everything. He must be a complete man and a common man and yet an unusual man. He must be, to use a rather weathered phrase, a man of honor—by instinct, by inevitability, without thought of it, and certainly without saying it. He must be the best man in his world and a good enough man for any world."
"He will take no man's money dishonestly and no man's insolence without a due and dispassionate revenge. He is a lonely man and his pride is that you will treat him as a proud man or be very sorry you ever saw him."
"The story is this man's adventure in search of a hidden truth, and it would be no adventure if it did not happen to a man fit for adventure. If there were enough like him, the world would be a very safe place to live in, without becoming too dull to be worth living in."
-Raymond Chandler, Writer
Raymond Chandler didn't invent hard-boiled fiction. Chandler, like Dashiell Hammett, saw a new narrative forming in popular literature and they felt comfortable working in it. It was a style of detectives and dames and it rang a bell with the American public.

The school of hard-boiled literature would still exist without men like Raymond Chandler and Dashiell Hammett, but we would probably have to call it something else.
They put the word "literature" to the form, and without them, they would only be stories of "detectives and dames." They would be sensational and fun, but very little more.
Raymond Chandler wrote with elegance and grace. His dialogue was quick and intellectual and his characters were multifaceted.
To call him one of the greatest pulp writers of the twentieth century is accurate but demeaning. Quite simply, he was one of the best writers of the twentieth century, period.
SOURCES:
Freeman, J. (2007). The Long Embrace: Raymond Chandler and the Woman He Loved. New York: Pantheon Books.
Bruccoli, M. J., & Layman, R. (2002). Hardboiled Mystery Writers: Raymond Chandler, Dashiel Hammett, Ross Macdonald: A Literary Reference. New York: Carroll & Graf.
Marling, W. (n.d.). Detnovel.com. http://www.detnovel.com/Chandler.html
Pierce, J. K. (n.d.). Authors and Creators: Raymond Chandler. http://www.thrillingdetective.com/trivia/chandler.html
First published in LIMBO