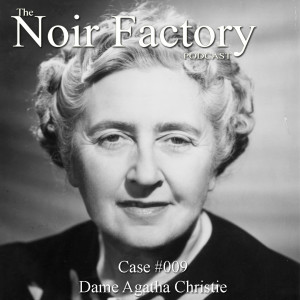 "Women are the ones who knows what's going on," she said quietly. "They are the ones with eyes. Have you not heard of Agatha Christie?" – Alexander McCall Smith, The No.1 Ladies Detective Agency
Agatha Christie was the bestselling author of all time, and living in the days of Stephen King and J.K. Rowling, that means something. In literature, it goes the Bible, Shakespeare, and Christie.
In short, she is what legends in mystery writing aspire to be.
But it wasn't always like that for her.
When you look at Agatha Christie's story, is helps to know something about her mother, Clara Boehmer. Clara was the only daughter of a military man and an Englishwoman. She had older brothers, one of which died very young, but they had left home to join the armed forces or to make their own way in the world.
But Clara was the youngest and she stayed behind at the family's home in Belfast, Ireland. At least, as long as she could.

Clara was still very young when her father, a captain, died in a riding accident. Her mother scraped by on a meager income and could barely support herself, let alone her daughter. So in her daughter's best interests, she sent her to live with her aunt in West Sussex. Clara's aunt had married a wealthy American, so the move not only kept young Clara from poverty, but it opened up a whole new world for her.
The couple introduced Clara to society, as well as to a young American stockbroker who had originally come to Europe to finish his education.
Frederick Aluah Miller was raised in the upper class of American culture, and he seemed born to be a man people trusted with their money. He was friendly, personable, attractive, and right from the start, young Clara seemed quite smitten.
They were married in April of 1878 and lived in Torquay, an English seaside village.
The couple's first child, Margaret Frary Miller, was born a year after they were married, followed by their son, Louis Montant Miller, or "Monty," a year later. They settled into the seaside village and brought a villa they called "Ashfield." The couple settled in and Clara spent the next decade raising her children there.
Then came the "mystery" of Agatha Christie.
SOURCES:
Christie, A. (2011). An Autobiography. New York, NY: Harper.
Christie, A., & Prichard, M. (n.d.). The Grand Tour: Around the World with the Queen of Mystery