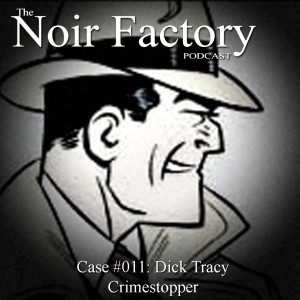 "I can't think of a better man to draw Dick Tracy than Chester Gould. He told the story of Dick Tracy. He told the story of Dick Tracy the way it should have been told. No other guy could have done it. It's not in the draftsmanship, it's in the man." – Jack Kirby, Artist
He was born in Pawnee, Oklahoma in 1900, seven years before the territory became a state. His grandparents, all four of them, were pioneers of the territory. His father, Gilbert was a minister and a printer. Gilbert Gould was everything a small town in a harsh territory needed him to be, but mostly he was a man who believed in a good story.
He was also the editor of the local newspaper, and he loved his politics.
Little Chester Gould was born in the last year of the nineteenth century and Gilbert raised him on a steady diet of newsprint. The young man fell head over heels for comics, and like most boys his age, followed the daily adventures of Budd Fisher's comic strip misfits "Mutt and Jeff" with fierce loyalty.

In 1908 the Democratic County Convention came to the Pawnee Courthouse and Gilbert Gould covered the story for his paper. He also encouraged his son, who was already beginning to show his chops as an artist, to sketch some of the local politicians.
Chester's talent was evident even then, and his father taped his son's sketches of the lawyers to the courthouse windows. One of the lawyers, who went on to the Supreme Court, was impressed enough to buy one of the drawings.
There doesn't seem to be any indecision in Chester Gould's early life regarding his fate to be an artist. While he was still in grade school he studied cartooning through a correspondence course.
SOURCES:
The Chester Gould Dick Tracy Museum. (n.d.) http://www.chestergould.org/
O'Connell, J. G. (2007). Chester Gould: A Daughter's Biography Of The Creator Of Dick Tracy. Jefferson, NC: McFarland.
Chester Gould. (n.d.) from http://comicvine.gamespot.com/chester-gould/4040-9218/
Dick Tracy Depot – A depot of information gathered from the Dick Tracy comics found in newspapers with information on early films, radio and books. (n.d.). from http://dicktracy.info/