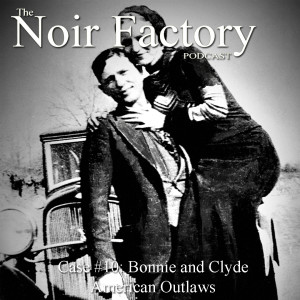 Letter to Henry Ford on April 10, 1934…
Dear Sir,
While I still have breath in my lungs I will tell you what a dandy car make. I have driven Fords exclusively when I could get away with one. For sustained speed and freedom from trouble the Ford has got ever other car skinned and even if my business hasn't been strictly legal it don't hurt anything to tell you what a fine car you got in the V8.
Yours truly,
Clyde Champion Barrow
Clyde Chestnut Barrow was the fifth of seven children born to a poor faming family in Telico, Texas on March 24th, 1909. To describe his parents, Henry and Cumie Barrow as "poor" would be charitable. They were tenant farmers who could barely make enough money to feed their children. In his youth, Clyde and his siblings were often sent to live with other relatives just to survive.
The family moved to West Dallas when Clyde was twelve due to lack of work and resentment from nearby land owners against tenant farmers. The family spent their first months in Dallas living out of their horse-drawn wagon until Henry could save up enough money to buy a tent to live in.

Eventually Henry Barrow saved enough to open a gas station and things looked up for the dirt-poor Barrow family. The family was together, had a roof over their heads, of a type, and were making an income, which wasn't an easy feat in the south during the 1920's.
Even young Clyde Barrow was taking odd jobs and saving a tiny bit of money. But Clyde was also a teenager, and a romantic teenager at that, and he had plans bigger than the poor, rough neighborhood of West Dallas.
He longed for adventure and freedom and a chance to see the world beyond West Texas. During his teenage years he tried to enlist in the navy but was turned away due to severe childhood illnesses. That must have really smarted to young Clyde Barrow, who had already given himself a tattoo on his left arm that read "USN."
Smarting over the break-up, Clyde rented a car to visit a girl who had broken up with him weeks earlier. The girl's mother refused to let Clyde see her and he left, dejected. So dejected, in fact that he failed to return the rental car to the agency. Young Clyde Barrow was arrested for the first time at the tender young age of sixteen. The charges were dropped, but the arrest remained in his file, as did the mug-shot of a cocky sixteen year old.
SOURCES:
Guinn, J. (2009). Go Down Together: The True, Untold Story of Bonnie and Clyde. New York: Simon & Schuster.
Barrow, B. C., & Phillips, J. N. (2004). My Life with Bonnie and Clyde. Norman: University of Oklahoma Press.
https://www.fbi.gov/about-us/history/famous-cases/bonnie-and-clyde (2010)