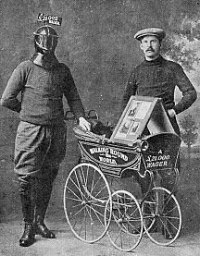 He was an adventurer and a businessman. He was an inventor with a keen imagination. He was a man with vision.
But mostly Harry Bensley was a gambler. It was a condition that was far from rare at the National Sporting Club in London. In fact, the condition was almost required for admission.
On a quiet evening in 1907, club founder and boxing enthusiast Hugh Cecil Lowther, the fifth Earl of Lonsdale, was entertaining a guest. Lowther was an adventurer and an explorer in his own right, having traveled the Canadian arctic and nearly dying reaching Kodiak, Alaska.
Lowther's guest that evening was J.P. Morgan, the American banker and financier who owned a good portion of the American wealth and an even larger portion of the American influence. One could imagine the two men, titans of old and new wealth, sitting back in their plush leather chairs, swirling expensive brandies and lamenting the loss of adventure in the world.

The globe that sat before them was bright, clear and colorful, and for men such as these this was a problem. There were no more dark places on the globe. There were no longer any undiscovered countries. The world simply held no more challenges for them. The next challenge they conquered would have to be of their own invention.
They smoked and talked, absently throwing around stakes and speculations. Could one swim the Atlantic? Doubtful.
Hot air balloon over Europe? Perhaps, but it lacked panache. Circumnavigating the globe? It had been done, but had it been done on foot?
Perhaps it was the greatness of the challenge, perhaps it was the brandy, but this one seemed like a winner to both Lowther and Morgan. As they discussed the proposition heatedly, Harry Bensley couldn't help but overhear.
He volunteered to be their man and undertake the challenge if Morgan was willing to pay $100,000 on its completion. Morgan agreed but neither J.P. Morgan nor Hugh Cecil Lowther was done hypothesizing or drinking. And since this was a wager among gentlemen, the finer points had to be decided.
The man undertaking this challenge had to take a baby carriage with him advertising the challenge. He had to support himself on this endeavor by selling postcards, and the only luggage he could take with him was a change of underwear.
As a final condition, the man tackling this undertaking had to remain anonymous, despite all the spectacle.
Clearly there was serious drinking to be done by all involved. At the end of the evening, however, hands were shaken and promises were made. After all, the National Sporting Club was made up of gentleman, and if promises could not be kept by their rank, than what of England?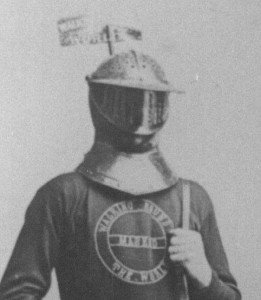 On January 1, 1908, a large crowd of well-wishers and newspaper reporters met Harry Bensley at Trafalgar Square to see him off on his epic undertaking. He stood proud next to the baby's pram, the side of the pram emblazoned with the words "Walking around the World" on either side and the words "A 21,000 pound Wager" on the front. The pram held the postcards he would sell to make his living on the trip as well as his supplies for the excursion. A change of underwear.
The newspapers clamored for pictures of this intrepid, if not peculiar, adventurer, and he was more than happy to strike a dashing pose as they snapped his picture.
And of the final condition of the bet, that he remain anonymous?
On the head of Harry Bensley, adventurer and inventor, sat a knight's helmet, completely obscuring his face, with a banner on the top reading "A 21,000 pound wager."
Harry began his journey in earnest, cheered on by the crowds that had gathered by the newspaper coverage of the event. Harry left for his trip around the world at 10:30AM, a time Morgan and Lowther had agreed on earlier.
There were also many more stipulations the two millionaires had attached to the undertaking later that night.
On his trip around the world, Harry was to support himself exclusively on the money he made selling the postcards with his likeness and the journey's story and he could spend no more than one pound creating these postcards.
In order to prove his claim, Harry had to stop at four towns in each county of Great Britain and procure the signature of the mayor of the town. Those stops alone equaled over 170 stops.
In addition to those stops, he had to travel to specific towns in 17 foreign countries and obtain signatures there as well.
And finally, on this strange, wild, alcohol-conceived adventure, he was to obtain a wife without ever revealing to her his actual identity.
It's hard not to notice a man in an iron mask pushing a baby carriage, so Harry made quite a splash wherever he went, and by most accounts, he never made it out of England.
In 1908 he was arrested in Kent for selling postcards without a license. The judge ordered Harry to remove his mask and address the court. The judge proved to be a decent sort, however, when Harry explained the rules of the wager to him. He let Harry keep the mask on and charged him only half a crown fine.
The newspapers followed him doggedly however, and one paper in particular offered a thousand-pound reward if anyone could discover the identity of the masked wanderer. In one case, a chamber maid hid under the bed in Harry's room and tried to sneak a peek. She was discovered at the last minute, however, and Harry's anonymity remained intact.
The story of the Man in the Iron Mask grew large, just as any tall-tale would. It was said that over the years that Harry perused his quest that he received 200 marriage offers, but accepted not a one. It was also said that Edward VII himself bought a postcard from Harry and demanded that he autograph it, only to have Harry decline because of the terms of the bet.
While the legend of the Man in the Iron Mask with the baby carriage spread far and wide, from all accounts, Harry travels did not. Some legends claim that he got as far as China and Japan, but there is not a shred of proof to back it up.
It is even said that he abandoned his quest in Genoa, Italy, at the start of World War I with the blessing of J.P. Morgan and a consolation payment from the billionaire of 4000-pounds, which Harry turned over to charity.
Seeing how J.P. Morgan passed away before the beginning of World War I, that scenario seems highly unlikely.
There are even a few skeptics who like to assert that there never was a bet between J.P. Morgan and Hugh Cecil Lowther, and that Harry Bensley was simply having one over on a gullible public.
But not a single one of those folk has the soul of a poet, as we do, fair reader.
Instead we look at Harry Bensley, the man in the Mask, as a patriot who gave up his immortal quest to serve his country in the Great War. In the war Harry was gravely wounded in battle and mustered out.
He lost what was left of his fortunes in Russia, a casualty to the revolution. For the rest of his life he took humble work as a doorman, a YMCA warden, and was even a bomb checker in an ammunition plant during World War II.
He passed away in Brighton on May 21st, 1956 but is still remembered to this day, as the man who undertook a great, if not misguided, quest for riches and glory.
And that's the God's honest truth.