Browsing articles in "Blog"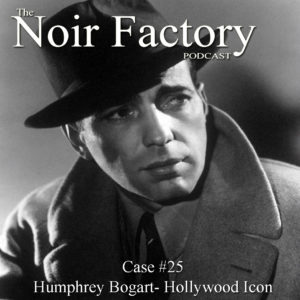 "Whether in a white dinner jacket or in a trench coat and a snap-brim fedora, he became a new and timely symbol of the post-Pearl Harbor American: tough but compassionate, skeptical yet idealistic, betrayed yet ready to believe again, and above all, a potentially deadly opponent." – Ann M. Sperber, author
A lot of what we do here at the Noir Factory revolves around noir films, crime history, and pulp stories. And like it or not, whenever the subject of noir comes up, it has only one face. And that face has a scar on its upper lip, sleepy eyes, a fedora worn at a roguish angle, and a cigarette dangling from its lips.
And most of us wouldn't have it any other way.
Humphrey DeForest Bogart was a Christmas baby, born on December 25th, 1899 in New York City. And while that sounds like a typical "tough-guy" bio, it was anything but.
Bogart was the son of a prominent New York surgeon with the unfortunate name "Belmont Bogart," and successful commercial illustrator Elizabeth Bogart. Humphrey Bogart was raised in the Upper West Side, in a fairly privileged home, and before we go any further into Humphrey Bogart's childhood, we have to address the elephant in the room regarding his childhood.
Continue reading »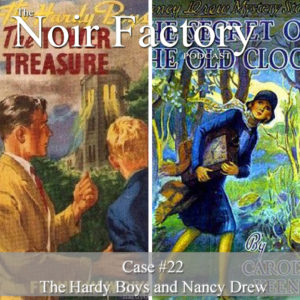 "…My husband pointed out that kids frequently have an instinctive desire to follow the good example rather than the bad, once they find out which is which. We agreed that a good moral background and thorough grounding in the Hardy Boys would always tell in the long run." – Shirley Jackson, author
They are still in print today and they are still popular, even though they aren't really like the stories you remember. Today there are smart phones and text clues, hackers and virtual reality, but don't let that bother you.
They really weren't for you in the first place.
They were for the person that you used to be. They were for the ten year old that you were. The one who stayed up late and smuggled a flashlight under the covers because you had to know what The Secret of the Old Clock really was or because you had to learn the true meaning behind the Mystery of the Whale Tattoo.
Continue reading »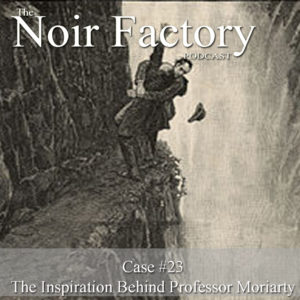 "He is the Napoleon of crime, Watson. He is the organizer of half that is evil and of nearly all that is undetected in this great city, He is a genius, a philosopher, an abstract thinker. He has a brain of the first order. He sits motionless, like a spider in the center of its web, but that web has a thousand radiations, and he knows well every quiver of each of them. He does little himself. He only plans." – Arthur Conan Doyle
He was the World's Greatest Detective, but what did that mean if he went up against purse snatchers and sneak-thieves. He matched wits with the best criminals in London, but how impressive was that if you always came out on top? If you always won?
Doyle's detective bored quickly and needed the game to keep his senses sharp, his intellect keen. So if you are Arthur Conan Doyle and you have the great Sherlock Holmes at your disposal, you don't need a good villain or even a brilliant foe.
You need the greatest criminal mind ever.
Continue reading »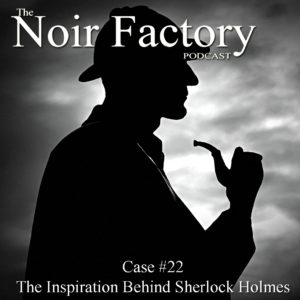 "Science gave us forensics. Law gave us crime." – Mokokoma Mokhonoana, author
Arthur Conan Doyle published his first Sherlock Holmes story in 1887 to mild reception. The story, A Study in Scarlet, introduced the Holmes character to the world. An eccentric investigator with an encyclopedic mind, razor-sharp instincts, and a lightning-fast wit, Holmes is the prototype detective, the model against which all others are measured.
Arthur Conan Doyle, himself a medical doctor, was considered a highly-intelligent man by those who knew him, and it was thought he brought much of himself to the creation of the perfect detective. Doyle was fascinated with puzzles and riddles, the great mysteries.
He studies procedure and methods of investigation and criminology, and even lent his voice to the odd court case.
Later on the Noir Factory will open a case on Arthur Conan Doyle, but for today, we'll focus on the inspiration for Sherlock Holmes.
SOURCES:
Liebow, E. (1982). Dr. Joe Bell: Model for Sherlock Holmes. Bowling Green, OH: Bowling Green University Popular Press.
Edwards, W. (2013). The Real Life Sherlock Holmes. CreateSpace.
Guy, F. (2015). Forensics Science And Dr Joseph Bell – The Real Sherlock Holmes | Crime Traveller. http://www.crimetraveller.org/2015/07/forensics-science-dr-joseph-bell-html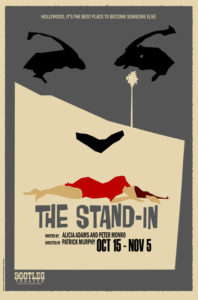 THE STAND-IN
OCTOBER 14 – NOVEMBER 5, 2016
THE BOOTLEG THEATER
LOS ANGELES, CA
If you are a fan of film noir, than you know it doesn't get any better than DOUBLE INDEMNITY. Directed in 1944 by Billie Wilder and written by Wilder and Raymond Chandler, DOUBLE INDEMNITY was based on a novel by James M. Cain and tells the story of an insurance salesman who falls for a married woman who wishes her husband was dead.
The term DOUBLE INDEMNITY applies to the rare case when death occurs under unusual circumstances.
The story is cinematic genius, considered by some to be the greatest piece of film noir in American history. But what if there was more to the story?
Continue reading »