Browsing articles in "Podcast"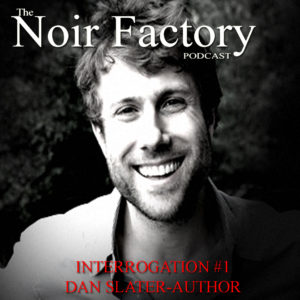 Dan Slater's novel Wolf Boys has been banned from prison by the Texas State Department of Corrections.
That is a shame because there is much there for the inmates, as well the public, to learn.
Dan Slater is a former legal reporter for The Wall Street Journal and has written for The New York Times, The New Yorker, The Washington Post, The Boston Globe, The Atlantic, GQ, and Fast Company. He is also the author of Love in the Time of Algorithms.
Today he joins author Steven Gomez to discuss his newest book, Wolf Boys – Two American Teeneagers and Mexico's Most Dangerous Drug Cartel.
Continue reading »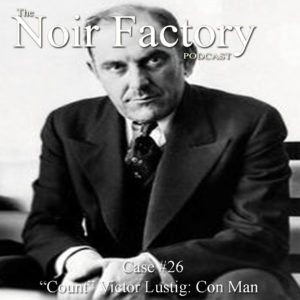 "I've always loved movies about con men. I think con men are as American as apple pie." – Bill Paxton, actor
Victor Lustig was born on January 4th, 1890. Maybe. He said, more than once, that he came from the Austria-Hungarian town of Hostinné, in what is now the Czech Republic. He said once that he was the son of the town's burgomaster.
He also said that he was the son of the poorest couple in the village. Believe what you like about the childhood of Victor Lustig, just know that there's not a lot of upside in taking the word of a con man.
As a boy, Victor Lustig was an excellent student. Not of books and notes, not of procedure and equations. He was a student of people. He picked up languages quickly and he saw patterns in people's behaviors where others didn't.
Continue reading »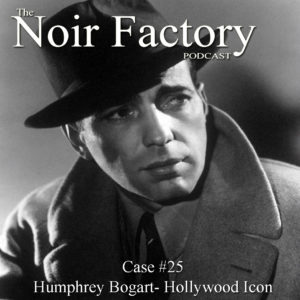 "Whether in a white dinner jacket or in a trench coat and a snap-brim fedora, he became a new and timely symbol of the post-Pearl Harbor American: tough but compassionate, skeptical yet idealistic, betrayed yet ready to believe again, and above all, a potentially deadly opponent." – Ann M. Sperber, author
A lot of what we do here at the Noir Factory revolves around noir films, crime history, and pulp stories. And like it or not, whenever the subject of noir comes up, it has only one face. And that face has a scar on its upper lip, sleepy eyes, a fedora worn at a roguish angle, and a cigarette dangling from its lips.
And most of us wouldn't have it any other way.
Humphrey DeForest Bogart was a Christmas baby, born on December 25th, 1899 in New York City. And while that sounds like a typical "tough-guy" bio, it was anything but.
Bogart was the son of a prominent New York surgeon with the unfortunate name "Belmont Bogart," and successful commercial illustrator Elizabeth Bogart. Humphrey Bogart was raised in the Upper West Side, in a fairly privileged home, and before we go any further into Humphrey Bogart's childhood, we have to address the elephant in the room regarding his childhood.
Continue reading »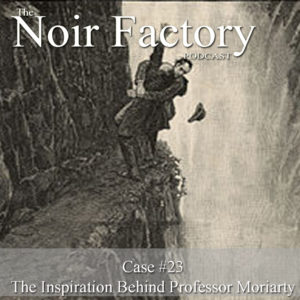 "He is the Napoleon of crime, Watson. He is the organizer of half that is evil and of nearly all that is undetected in this great city, He is a genius, a philosopher, an abstract thinker. He has a brain of the first order. He sits motionless, like a spider in the center of its web, but that web has a thousand radiations, and he knows well every quiver of each of them. He does little himself. He only plans." – Arthur Conan Doyle
He was the World's Greatest Detective, but what did that mean if he went up against purse snatchers and sneak-thieves. He matched wits with the best criminals in London, but how impressive was that if you always came out on top? If you always won?
Doyle's detective bored quickly and needed the game to keep his senses sharp, his intellect keen. So if you are Arthur Conan Doyle and you have the great Sherlock Holmes at your disposal, you don't need a good villain or even a brilliant foe.
You need the greatest criminal mind ever.
Continue reading »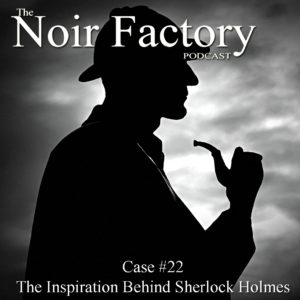 "Science gave us forensics. Law gave us crime." – Mokokoma Mokhonoana, author
Arthur Conan Doyle published his first Sherlock Holmes story in 1887 to mild reception. The story, A Study in Scarlet, introduced the Holmes character to the world. An eccentric investigator with an encyclopedic mind, razor-sharp instincts, and a lightning-fast wit, Holmes is the prototype detective, the model against which all others are measured.
Arthur Conan Doyle, himself a medical doctor, was considered a highly-intelligent man by those who knew him, and it was thought he brought much of himself to the creation of the perfect detective. Doyle was fascinated with puzzles and riddles, the great mysteries.
He studies procedure and methods of investigation and criminology, and even lent his voice to the odd court case.
Later on the Noir Factory will open a case on Arthur Conan Doyle, but for today, we'll focus on the inspiration for Sherlock Holmes.
SOURCES:
Liebow, E. (1982). Dr. Joe Bell: Model for Sherlock Holmes. Bowling Green, OH: Bowling Green University Popular Press.
Edwards, W. (2013). The Real Life Sherlock Holmes. CreateSpace.
Guy, F. (2015). Forensics Science And Dr Joseph Bell – The Real Sherlock Holmes | Crime Traveller. http://www.crimetraveller.org/2015/07/forensics-science-dr-joseph-bell-html