Noir Factory Podcast Episodes
Noir Factory Interrogation #003: Will Viharo – Gonzo Pulp Writer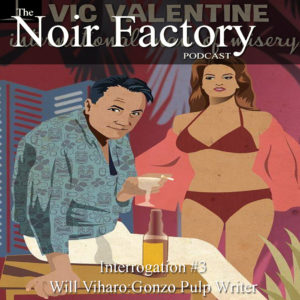 Will Viharo is the author of the Vic Valentine series as well as the host of Seattle's Noir at the Bar, a seasonal showcase that combines author readings with alcohol, the way God intended it.
He is a writer that defies classification, with his work mixing humor, surrealism, gore, violence, and sex.
His newest work, Vic Valentine, International Man of Misery, is due out this fall and in this interrogation I get a chance to get the skinny from an unconventional writer, society observer, and all-around good guy.
You can connect with Will at www.thrillville.net.
Cover Art provided by Matt Brown. You can find his work here.

---
Noir Factory Podcast Case #034: Joseph Weil – The Yellow Kid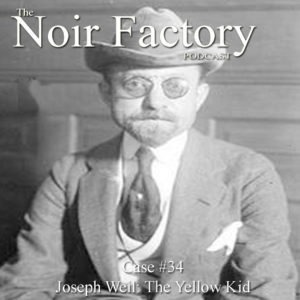 "Who's going to believe a con artist? Everyone if she's good." – Andy Griffith
Joseph Weil was born in Chicago in 1875 to Mr. and Mrs. Otto Weil. The couple owned a small neighborhood grocery store and made a decent income. Their boy, Joseph, helped out after school by sweeping up and stocking shelves.
And then he discovered racehorses.
He quit school at seventeen to work as a debt collector, and while he was successful at collections, it was observations that were really his specialty. At the end of the day, when he turned in his collections, he noticed that his fellow collectors were a little short. These collections went to book keepers who, in turn, were a little short on their offerings.
Weil let his fellow workers know that he had noticed their "inconsistencies" and hinted that others might be interested as well. Soon he was the recipient of 10% of those said "inconsistencies."

While Weil's fortunes took a temporary upturn, he couldn't really count on blackmailing his co-workers as a long-term business model. Nor did he have to.
SOURCES:
Weil, J. R., & Brannon, W. T. (2011)."Yellow Kid" Weil: The Autobiography of America's Master Swindler. Oakland: AK Press/Nabat.
Old Time Con Men: Joseph Weil. (2012, July 30) https://steampunkopera.wordpress.com/2011/07/30/old-time-con-men-joseph-weil/
Crouch, I. (n.d.). Joseph Weil Archives – The Paris Review https://www.theparisreview.org/blog/tag/joseph-weil/
---
Noir Factory Podcast Case #033: The Black Sox – Baseball's Most Notorious Scandal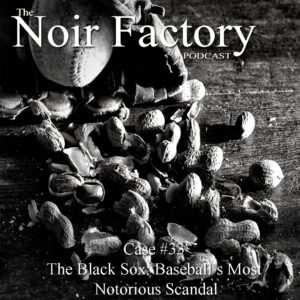 I'm forever blowing ballgames,
pretty ballgames in the air.
I come from Chi, I hardly try,
just go to bat and fade and die.
Fortune's coming my way,
that's why I don't care.
I'm forever blowing ballgames,
and the gamblers treat us fair.
-Ring Lardner
You could say that it started with Charlie Comiskey, because a lot of things started with Charlie Comiskey in Chicago in 1919. Comiskey owned the Chicago White Sox, a serious contender in any year, and he enjoyed the reputation as a tightwad and a fierce negotiator.
I want to go on record by saying that although Comiskey fostered the reputation as a hard-guy and a tightwad, the payroll of the Chicago White Sox was one of the best in the league. The team was filled with solid players and had two bona fide stars on its roster; outfielder Joe Jackson and third baseman Buck Weaver. They each made over $6000 a year in 1919 and a lot of the other name players on the team made around half that. And that was about what they would have made on any other roster in the Bigs, so while money was a factor in the Black Sox Scandal, it wasn't the only factor.
Comiskey himself had been a ball player, a pitcher before moving to first base and changing the way the position was played. After his time as a player he moved onto coaching. He retired with a winning record before he became owner of the Chicago White Sox.
So while Charlie Comiskey may or may not have lived up to the tightwad role, he played the part of the antagonist with relish.
SOURCES:
Asinof, E. (1987). Eight Men Out: The Black Sox and The 1919 World Series. New York: Henry Holt.
Hornbaker, T. (2014) Turning the Black Sox White: The Misunderstood Legacy of Charles A. Comiskey. New York, NY: Sports Publishing.
http://www.famous-trials.com/blacksox
---
Noir Factory Podcast Case #032: Alan Ladd & Box 13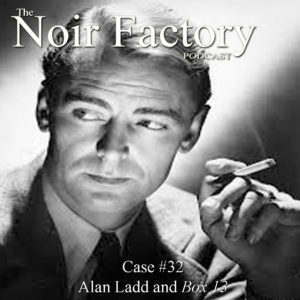 "I'm the most insecure guy in Hollywood. If you had it good all your life, you figure it can't ever be bad, but when you've had it bad, you wonder how long a thing like this will last." – Alan Ladd
Alan Walbridge Ladd was born on September 3rd, 1913 in Hot Springs, Arkansas and was the only child of Ina Raleigh and Alan Ladd. Like most of the characters Ladd went onto play, his upbringing was rough and growing up was a constant struggle.
The family lost Alan's father, a freelance accountant, to a heart attack when Alan was only four. Shortly afterwards the family apartment was lost when Alan accidentally burned it down playing with matches.
After they lost their home, Alan and his mother moved to Oklahoma City where she remarried. Afterwards they went to Pasadena, in a Grapes of Wrath-like journey, where his stepfather found short-time work painting movie sets. Later in life, Ladd said they existed for long periods of time on nothing but potato soup.
Throughout Alan Ladd's childhood he and his mother battled times of homelessness and sever hunger. Alan, who was always undersized, was said to have suffered from malnutrition. Growing up, he was labeled with the nickname "Tiny,' a nickname he hated.
In California, to help make ends meet, Alan worked various side jobs, such as picking fruit, sweeping floors, and delivering newspapers.
In high school he excelled at track and field as well as swimming and by 1931 he was seriously training for the Olympics when a injury ended his athletic career.
After receiving advice to peruse acting from a high school teacher who directed him in The Mikado, Ladd found work as a grip at Warner Brothers. It was a job that paid $45 a week and at the same time, he was also studying acting at Universal Pictures, thanks to a donation from a friend. To help out, he opened a hamburger stand and inexplicably named it "Tiny's Patio," for the childhood nickname he hated. He also married his girlfriend Midge in 1936, but the two couldn't afford to live together, so they waited until Alan managed to save enough money. Eventually the couple, along with Alan's destitute mother, moved in with a friend.
By then the couple had a child, Alan Jr. At the same time Alan's mother was suffering from alcoholism. A few months later Alan saw his mother die by her own hand after taking ant poison.
Tiny's Patio closed but Ladd was studying voice acting and it was starting to pay off. He was getting radio work on programs like the Lux Radio Theater. He started making a bit of money from his craft and it was during this time that he was, as they say "discovered."
SOURCES:
Nyhagen, D. (n.d.). The Box 13 Radio Program. http://www.digitaldeliftp.com/DigitalDeliToo/dd2jb-Box-13.html
Linet, B. (1979).Ladd. The Life, the Legend, the Legacy of Alan Ladd: A Biography. New York: Arbor House.
Alan Ladd Profile. (n.d.). http://www.tcm.com/this-month/article/161109%7C0/Alan-Ladd-8-12.html
---
Noir Factory Podcast Case #031: The Batman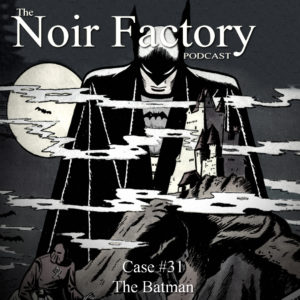 "He's clearly a man with a mission, but it's not one of vengeance. Bruce is not after personal revenge … He's much bigger than that; he's much more noble than that. He wants the world to be a better place, where a young Bruce Wayne would not be a victim… In a way, he's out to make himself unnecessary. Batman is a hero who wishes he didn't have to exist." – Frank Miller
In 1939 detectives and vigilantes ruled the popular literary landscape. They were hard men who handed out justice at the end of a gun. Even the heroes that appeared in pulps, the early Super Heroes, such as The Shadow and The Spider, handed out death sentences with regularity, and whenever justice didn't come from them, it usually came in another fatal form, and no one seemed really broken up over it.
But suddenly comics and comic books were picking up steam with the public, serving as moral compasses for the kids of America, and that brand of quick justice would no longer do.

Names like Doctor Occult, the Clock, Superman, and the Crimson Avenger were on the scene, and to tell the truth, the transition from pulp sensibilities to comic books was rough. Heroes still wailed on the bad guys with little regards for health or civil rights, and even Superman was not above sending a guy to the hospital.
You know… if society needed that to happen.
In truth even Batman carried around a gun in the early days, but that went away quickly. Comics had a wider audience than the pulps, and Bob Kane and Bill Finger had a job to do.
That job wasn't to protect children. It was to sell comics to kids and approving parents..
---
Noir Factory Podcast Case #030: Billie Holiday – Jazz Legend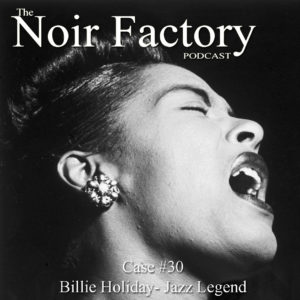 "Behind me, Billie was on her last song. I picked up the refrain, humming a few bars. Her voice sounded different to me now. Beneath the layers of hurt, beneath the ragged laughter, I heard a willingness to endure. Endure- and make music that wasn't there before." – Barack Obama
The woman who would be Billie Holiday was born Eleanora Fagan in Philadelphia on April 7th, 1915. In her autobiography Lady Sings the Blues, written with William Duffy, Billie said that her parents were "just a couple of kids" when they were married. She said that her father was eighteen at the time, her mother was sixteen, and that she was three.
In reality her mother and father were never married, never lived under the same roof, and her mother nineteen when she met Billie's father, who was himself only seventeen.
Lady Sings the Blues is littered with inaccuracies and misquotes. The book was written quickly, from conversations between the two writers, Billie telling William Duffy stories of her life. He was interested in getting her story, what she felt, and was less interested in fact checking.
And in this case, that's fine. We may slip over a lyric or two, but the melody of the song, the voice, IS clear and true, and it really tells us everything we need to know about Billie Holiday, the immortal Lady Day.
Billie's father, Clarence Holiday, was jazz musician, a banjo and guitar player, who abandoned his family to pursue his musical career. Clarence went onto small fame, backing up the likes of Fletcher Henderson, but he was never more than an infrequent visitor in the life of his daughter.
That left young Eleanora in the care of her mother, Sarah Julia Fagan, or Sadie. Sadie was nineteen years old when her parents threw her out of their Baltimore home for becoming pregnant. With nowhere else to turn, Sadie and Eleanora moved to Philadelphia where she arranged for Eleanora to stay with her half-sister, Eva Miller. Miller was older and married, and looked after Eleanora while Sadie found work on passenger trains and found that work took her away from Eleanora for long periods of time.
When Eva couldn't look after young Eleanora, she was shuffled around from home to home.
In Philadelphia, Eleanora frequently skipped school and was eventually taken before a juvenile court where she was placed in The House of the Good Shepherd, a home for troubled young black girls.
Billie was nine years old at the time.
SOURCES:
Szwed, J. F. (2016). Billie Holiday: The Musician and the Myth. NY, NY: Penguin Books.
Clarke, D. (2002).Billie Holiday: Wishing on the Moon. Cambridge, MA: Da Capo Press.
Holiday, B., & Dufty, W. (2006). Lady Sings the Blues: 50th Anniversary Edition. New York: Harlem Moon.
Billie Holiday. (2017, April 28). https://www.biography.com/people/billie-holiday-9341902
Billie Holiday. (n.d.). http://www.fembio.org/english/biography.php/woman/biography/billie-holiday/
---
Noir Factory Podcast Case #029: George Remus – King of the Bootleggers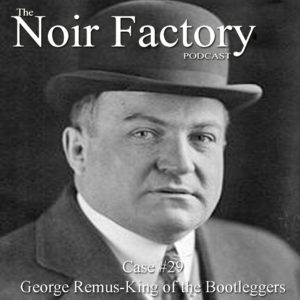 "He and this Wolfsheim bought up a lot of side-street drug-stores here and in Chicago and sold grain alcohol over the counter. That's one of his little stunts. I picked him for a bootlegger the first time I saw him, and I wasn't far wrong." – F. Scott Fitzgerald, The Great Gatsby
George Remus was born on November 13th 1876 in Germany to Frank and Maria Remus, a working class family. He was the middle child with an older sister and younger brother and while he was still just a toddler, the family immigrated to the US.
The Remus family landed in Baltimore, then Cincinnati, and finally to Chicago, along with an intense wave of German immigrants to the Midwest.
Frank Remus found work as a lumber scorer during a boom time in Chicago and his son George flourished in school. Picking up the language quickly, he was fluent in both German and English at an early age and carried with him only the slightest German accent.
When George was only fourteen his father, Frank, who had suffered from acute rheumatism, was left disabled by the disease and unable to work. That left George to take up the mantle as breadwinner of the family. With fierce determination, he told his father not to worry and dedicated himself not only to supporting his family but to rise up through society as well.
He went to work at his uncle's pharmacy as a clerk and at the age of nineteen passed the state exam for a pharmacist's license. He continued to save and invest and within two years of becoming a pharmacist he purchased his uncle's shop and a few years after that opened a second, all the while dabbling in health insurance the side.
As a young adult Remus grew to be a fastidious man who was meticulous about his clothes and his surroundings. He prided himself as being a connoisseur of good food, fine wine, art, and literature. He also considered himself a "man's man," and even though he grew into a soft, pudgy adult, he could still count on his iron will to achieve any goal he set for himself.
He was quick with his fists and even though he wasn't the most athletic man he could wear down almost any opponent. He also took up swimming with the same amount of focus and determination that he did everything.
He became a member of the Illinois Athletic Club and joined their water polo team, participating in national events. In 1907 he set the record for endurance swimming in Lake Michigan by swimming for 5 hours and 40 minutes in the dead of winter.
It was a record that held up for decades.
In 1899 he fell in love with one of his customers, Lillian Klauff, and in July of that year, the two were married. The following year, George Remus's daughter, Remola, was born.
When Remola was only eight years old she was cast by L. Frank Baum himself to play Dorothy Gale in the first film adaption of The Wizard of Oz.
Before George Remus was thirty years old he had met every goal society, or more importantly, he himself had ever set. But the arena, that of a pharmacist and a business owner, wasn't the one he had chosen. He had been thrust into it.
Now it was time for George Remus to face bigger challenges.
SOURCES:
Cook, W. A. (2008). King of the Bootleggers: A Biography of George Remus. Jefferson, NC: McFarland & Co.
Hotchkiss, J., & Meyer, J. (2011). Remembering Remus in Price Hill. Cincinnati, OH: Edgecliff Press in partnership with the Price Hill Historical Society and Museum.
George Remus. (1970, January 01). https://www.immigrantentrepreneurship.org/entry.php?rec=98
E. (n.d.). George Remus Biography. http://whiskeyreviewer.com/2017/03/george-remus-biography-033017/
---
Noir Factory Interrogation #002: Eddie Muller – The Czar of Noir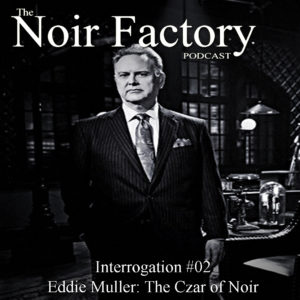 Eddie Muller is the founder and president of the Film Noir Foundation. According to their website, the Film Noir Foundation is a non-profit public benefit corporation created as an educational resource regarding the cultural, historical, and artistic significance of film noir as an original American cinematic movement.
Eddie is also the host of Noir City, the coolest non-profit fundraiser known to man. Noir City is a traveling film festival and chief fundraising event for the Film Noir Foundation. The event is a fun, immersive festival that makes its home in San Francisco's Castro Theatre but makes its way around the country.
In addition to Noir City, Eddie is also the host of Noir Alley on Turner Classic Movies. Noir Alley runs every Sunday at 10:00AM and showcases the best in noir.
Outside of film and television, Eddie is the senior editor of Noir City, FNF's monthly e-magazine, as well as a contributing writer to Oakland Noir, a collection of Bay Area noir stories, as well as his studies of films and his work in fiction, which earned him the Best First Novel of 2002 by the Private Eye Writers of America.
Eddie Muller has forgotten more than most of us will ever know about Noir film and has earned the nickname the "Czar of Noir."
---
Noir Factory Podcast Case #028: Charles Ponzi – Con Man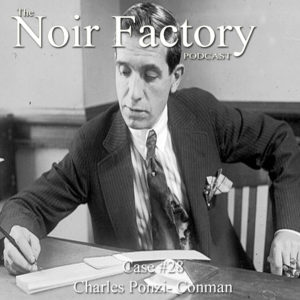 "Even if they never got anything for it, it was cheap at that price. Without malice aforethought I had given them the best show that was ever staged in their territory since the landing of the Pilgrims! It was easily worth fifteen million bucks to watch me put the thing over." – Charles Ponzi
Carlo Pietro Giovanni Guglielmo Tobaldo Ponzi was born in Lugo, Italy in 1882 and did the world a favor, one of very few, by changing his name to Charles Ponzi.
He came from a family that was at one time well-to-do but, by the time of Charles' birth, had fallen onto hard times. His mother used the title "Dona" before her name, an honorific usually reserved for the upper-tier of Italian society, but the title was a holdover from days long gone.
The Ponzi family had, by all reports, fallen onto hard times.
Charles Ponzi himself was a charming and likeable fellow who was an less-than-average student who was interested in good times a little more than schoolwork. After he graduated primary school he took a job as a postal worker, but left it when he was accepted at the University of Rome La Sapienza.
While he "studied" there, and because this is a podcast I'll tell you I just used "air quotes," he fell in with the children of wealth and leisure.
They treated their time at the university like a four-year holiday and Charles was more than happy to do the same. He hung out with the "beautiful people" in bars,cafes, and concerts, and he considered himself to be every bit as privileged as they were.
He ended his career at the university, however, flat broke with very little to show for it.
The one thing he did learn from his time at school was that young men were traveling to the US and returning wealthy.
SOURCES:
Zuckoff, M. (2005). Ponzi's Scheme: The True Story of a Financial Legend. New York: Random House.
Dunn, D. H. (2004). Ponzi: The Incredible True Story of the King of Financial Cons. New York: Library of Larceny.
Trex, E. (2008, December 23). Who was Ponzi — what the heck was his scheme? http://edition.cnn.com/2008/LIVING/wayoflife/12/23/mf.ponzi.scheme/
Darby, M. (1998, December 01)In Ponzi We Trust. http://www.smithsonianmag.com/history/in-ponzi-we-trust-64016168/
---
Noir Factory Podcast Case #027: "Durable" Mike Malloy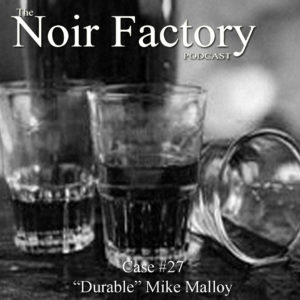 In 1996 a board game called KILL DR. LUCKY came out. It was a wildly fun game where each person takes turns trying to, well… kill Dr. Lucky.
Don't judge me. It was a simpler time.
The game required each player to take a turn at doing in the Rasputin-like physician, which was sooo much more difficult than it sounded. It took luck and daring to get the good doctor away from all other players and do him in, and more often than not, he escaped no worse for wear.
In short he was one hard SOB to kill. I'll go ahead and put a link right here so you can see what I mean.
What does that have to do with today's case?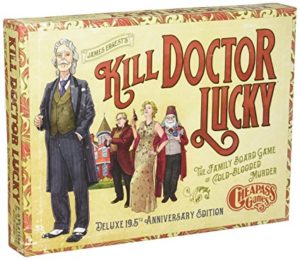 Well, a lot of what we do here is based in hard, cold fact and today's case is a little incredible.
In fact, you'd be forgiven for thinking that today's file is a little something we overheard at the corner bar.
Everything here, like all of our cases, has been researched and verified to the best of our ability. So sit back and have a pint as you listen to tonight's tale. Hell, have two if you aren't driving.
Case #27 – "Durable" Mike Malloy. Today on the Noir Factory!
SOURCES
Read, S. (2005). On The House: The Bizarre Killing of Michael Malloy. New York: Berkley Books.
"Killed for Insurance." The Washington Post, May 13, 1933
"Four to Die for Killing by Gas After Auto, Rum, Poison Fail." The Washington Post, October 20, 1933
Abbott, K. (2012, February 7). The Man Who Wouldn't Die. Retrieved from http://www.smithsonianmag.com/history/the-man-who-wouldnt-die-89417903/
---
Noir Factory Podcast Case #01.5: Kate Warne – America's First Female Detective REVISITED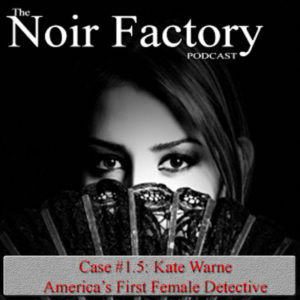 Hi!
Steve Gomez here.
A lot has happened behind the scenes at the Noir Factory during the last month or so. Our offices in the Sierra Foothills have moved lock, stock, and barrel up to the Pacific Northwest. Way up to the icy clutches of the Pacific Northwest. Past Seattle and into kissing cousin territory with Canada.
That kind of Pacific Northwest.
Now those were the offices we know and love. My home. Our everyday offices. Not to worry about the International Office in Prague. Those are still doing well. In fact, I'm told the less said about them, the better.
I'm actually told not to say anything about them. It's best for everyone if we never speak of them again.
Please forget you ever heard about any office in Prague. There are no offices in Prague.
So.
In addition to the big move up north, there have been other big life changes. I've taken a new day job that is more podcast friendly and should help with the production of more Noir Factory episodes as well as Noir Factory items which will turn up over time.
During all those changes our goal here was to keep our production schedule of two episodes a month up and uninterrupted.
I fell short of that goal. Woefully short.
I missed the entire month of February. I spent what few free hours I had that month doing research on a new case, but those hours were very few and very far between.
So in order to catch up and still bring something worthwhile to the table, I wanted to present something new or at least something beneficial to this "thing of ours."
So this week, like any good detective, we are going back to our first case.
Case #001- Kate Warne: America's First Female Detective is our most popular episode. It is also the episode with the worst sound quality. I was a complete rookie when I recorded it, and it shows.
And Kate Warne deserves better.
So as a special offering this week, as well as closing the file on old business, we're going to revisit and re-record our first episode and in that sense, we're going to try and give fellow Detective Kate Warne her due.
So be sure to grab your fedora and if you enjoy this episode, share it with a friend and stop by iTunes and give us a review, because a kind word can take you far.
Not as far as a few kind words and a gun, but still……
---
Noir Factory Interrogation #001: Dan Slater – Author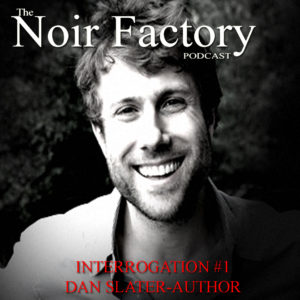 Dan Slater's novel Wolf Boys has been banned from prison by the Texas State Department of Corrections.
That is a shame because there is much there for the inmates, as well the public, to learn.
Dan Slater is a former legal reporter for The Wall Street Journal and has written for The New York Times, The New Yorker, The Washington Post, The Boston Globe, The Atlantic, GQ, and Fast Company. He is also the author of Love in the Time of Algorithms.
Today he joins author Steven Gomez to discuss his newest book, Wolf Boys – Two American Teeneagers and Mexico's Most Dangerous Drug Cartel.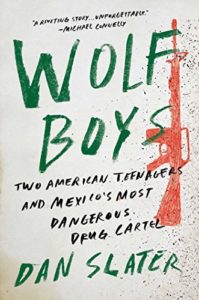 ---
Noir Factory Podcast Case #026: Victor Lustig – Con Man Extraordinaire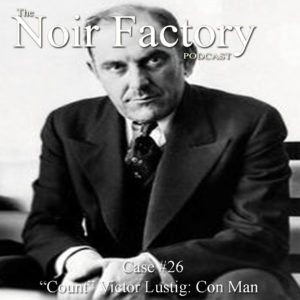 "I've always loved movies about con men. I think con men are as American as apple pie." – Bill Paxton, actor
Victor Lustig was born on January 4th, 1890. Maybe. He said, more than once,
that he came from the Austria-Hungarian town of Hostinné, in what is now the Czech Republic. He said once that he was the son of the town's burgomaster.
He also said that he was the son of the poorest couple in the village. Believe what you like about the childhood of Victor Lustig, just know that there's not a lot of upside in taking the word of a con man.
As a boy, Victor Lustig was an excellent student. Not of books and notes, not of procedure and equations. He was a student of people. He picked up languages quickly and he saw patterns in people's behaviors where others didn't.
He studied at the University of Paris and became fluent in Czech, French, English, German, and Italian. While he never was an imposing person, he learned charm and poise, and he learned to make them work for him.
SOURCES:
Lustig, Betty Jean. From Paris to Alcatraz: The True, Untold Story of One of the Most Notorious Con-Artists of the Twentieth Century. Xlibris Corporation, 2011. Print.
Maysh, J. (2016, March 9). The Man Who Sold the Eiffel Tower. Twice. http://www.smithsonianmag.com/history/man-who-sold-eiffel-tower-twice-180958370/
King, G. (2012, August 22). The Smoothest Con Man That Ever Lived. http://www.smithsonianmag.com/history/the-smoothest-con-man-that-ever-lived-29861908/
---
Noir Factory Podcast Case #025: Humphrey Bogart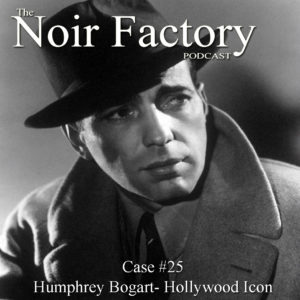 "Whether in a white dinner jacket or in a trench coat and a snap-brim fedora, he became a new and timely symbol of the post-Pearl Harbor American: tough but compassionate, skeptical yet idealistic, betrayed yet ready to believe again, and above all, a potentially deadly opponent." – Ann M. Sperber, author
A lot of what we do here at the Noir Factory revolves around noir films, crime history, and pulp stories. And like it or not, whenever the subject of noir comes up, it has only one face. And that face has a scar on its upper lip, sleepy eyes, a fedora worn at a roguish angle, and a cigarette dangling from its lips.
And most of us wouldn't have it any other way.
Humphrey DeForest Bogart was a Christmas baby, born on December 25th, 1899 in New York City. And while that sounds like a typical "tough-guy" bio, it was anything but.
Bogart was the son of a prominent New York surgeon with the unfortunate name "Belmont Bogart," and successful commercial illustrator Elizabeth Bogart. Humphrey Bogart was raised in the Upper West Side, in a fairly privileged home, and before we go any further into Humphrey Bogart's childhood, we have to address the elephant in the room regarding his childhood.
Namely "Was Humphrey Bogart the Gerber baby food baby?"
We were all beautiful babies because every baby is beautiful. But again, none of us were beautiful babies like Humphrey Bogart was a beautiful baby.
SOURCES:
Bogart, S. H. (1995). Bogart: In Search of My Father. New York, NY, U.S.A.: Dutton..
Sperber, A. M. (2011). Bogart. New York: It Books.
Overview for Humphrey Bogart. (n.d.).from TCM http://www.tcm.com/tcmdb/person/18290%7C71928/Humphrey-Bogart/
---
Noir Factory Podcast Case #024: The Hardy Boys & Nancy Drew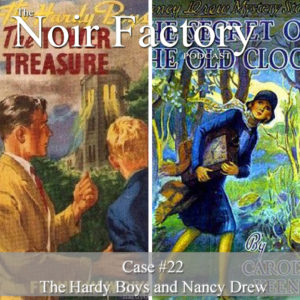 "…My husband pointed out that kids frequently have an instinctive desire to follow the good example rather than the bad, once they find out which is which. We agreed that a good moral background and thorough grounding in the Hardy Boys would always tell in the long run." – Shirley Jackson, author
They are still in print today and they are still popular, even though they aren't really like the stories you remember. Today there are smart phones and text clues, hackers and virtual reality, but don't let that bother you.
They really weren't for you in the first place.
They were for the person that you used to be. They were for the ten year old that you were. The one who stayed up late and smuggled a flashlight under the covers because you had to know what The Secret of the Old Clock really was or because you had to learn the true meaning behind the Mystery of the Whale Tattoo.
And if you are unhappy with the changes in the text or because Frank and Joe don't look the way you remember them as kids, then that's not on them. After all these years, the Hardy Boys and Nancy Drew are still just kids. If you can't stand that modern sensibilities are creeping into your precious stories, then that's on you.
But before you pass final judgment on some of your best childhood memories, then again let me remind you that they probably weren't cutting edge entertainment when you read them. Adults probably looked down on them and thought of the stories as simple or cartoonish, or even, God forbid, juvenile.
But then what the hell did the adults know anyway?
SOURCES:
Keeline, J. D. (n.d.). Edward Stratemeyer & the Stratemeyer Syndicate. http://stratemeyer.org/
Watson, B. (2012). Edward Stratemeyer: The Man Who Created Nancy Drew. New Word City.
Billman, C. (1986). The Secret of the Stratemeyer Syndicate: Nancy Drew, the Hardy Boys, and the Million Dollar Fiction Factory. New York: Ungar.
O'Rourke, M. (2004). Nancy Drew's Father. http://www.newyorker.com/magazine/2004/11/08/nancy-drews-father
---
Noir Factory Podcast Case #023: The Real Life Inspiration for Professor Moriarty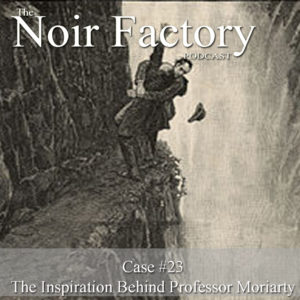 "He is the Napoleon of crime, Watson. He is the organizer of half that is evil and of nearly all that is undetected in this great city, He is a genius, a philosopher, an abstract thinker. He has a brain of the first order. He sits motionless, like a spider in the center of its web, but that web has a thousand radiations, and he knows well every quiver of each of them. He does little himself. He only plans." – Arthur Conan Doyle
He was the World's Greatest Detective, but what did that mean if he went up against purse snatchers and sneak-thieves. He matched wits with the best criminals in London, but how impressive was that if you always came out on top? If you always won?
Doyle's detective bored quickly and needed the game to keep his senses sharp, his intellect keen. So if you are Arthur Conan Doyle and you have the great Sherlock Holmes at your disposal, you don't need a good villain or even a brilliant foe.
You need the greatest criminal mind ever.
You need the man Scotland Yard dubbed the "Napoleon of Crime."
Adam Worth was born to a Jewish family in Germany in 1844 and traveled with his parents to America five years later. The Worth family settled in Cambridge, Massachusetts. Adam's father was a tailor and young Adam helped around the shop.
When he was 5 years old, young Adam was conned into trading two old, dull pennies for a bright, shinny new one.
Adam's father beat the boy for falling for the trick and even at that early, tender age, Adam Worth vowed that "no one would ever get the better of Adam Worth in any business transaction, regular or irregular."
SOURCES:
Macintyre, B. (1997). The Napoleon of Crime: The Life and Times of Adam Worth, Master Thief. New York: Farrar, Straus, Giroux.
Pinkerton National Detective Agency. (2016). The Greatest Criminal Minds of the Past Century (Vol. Paperback). Leopold Classic Library.
Conliffe, C. (2015, September 21). Adam Worth, the Napoleon of Crime – HeadStuff. http://www.headstuff.org/2015/09/adam-worth-the-napoleon-of-crime/
---
Noir Factory Podcast Case #022: The Inspiration Behind Sherlock Holmes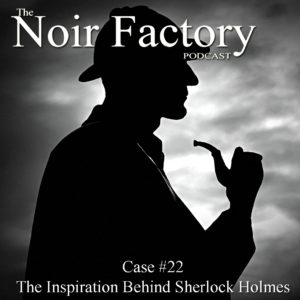 "Science gave us forensics. Law gave us crime." – Mokokoma Mokhonoana, author
Arthur Conan Doyle published his first Sherlock Holmes story in 1887 to mild reception. The story, A Study in Scarlet, introduced the Holmes character to the world. An eccentric investigator with an encyclopedic mind, razor-sharp instincts, and a lightning-fast wit, Holmes is the prototype detective, the model against which all others are measured.
Arthur Conan Doyle, himself a medical doctor, was considered a highly-intelligent man by those who knew him, and it was thought he brought much of himself to the creation of the perfect detective. Doyle was fascinated with puzzles and riddles, the great mysteries.
He studies procedure and methods of investigation and criminology, and even lent his voice to the odd court case.
Later on the Noir Factory will open a case on Arthur Conan Doyle, but for today, we'll focus on the inspiration for Sherlock Holmes.
SOURCES:
Liebow, E. (1982). Dr. Joe Bell: Model for Sherlock Holmes. Bowling Green, OH: Bowling Green University Popular Press.
Edwards, W. (2013). The Real Life Sherlock Holmes. CreateSpace.
Guy, F. (2015). Forensics Science And Dr Joseph Bell – The Real Sherlock Holmes | Crime Traveller. http://www.crimetraveller.org/2015/07/forensics-science-dr-joseph-bell-html
---
Noir Factory Podcast Case #021: The Shadow – Pulp Hero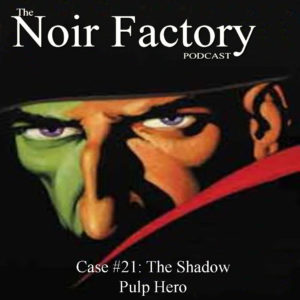 "The world of Doc Savage and The Shadow was one of absolute values, where what was good was never in the slightest doubt and where what was evil inevitably suffered some fitting punishment." – Alan Moore, writer
The Shadow first cast his presence over the airwaves on July 31st of 1930. It was on CBS's The Detective Story Magazine Hour where a mysterious narrator introduced a dramatic story that appeared in the latest issue of Street and Smith's Detective Story Magazine. Back then the Shadow was merely a story-telling device, a mysterious identity to bookend a detective story.
"I…am The Shadow! Conscience is a taskmaster no crook can escape. It is a jeering shadow even in the blackest lives. The Shadow knows… and you too shall know if you listen as Street & Smith's Detective Story Magazine relates for you …"
Yada yada yada…
The intro was followed by a hard-boiled detective story, and each episode ended with the now-famous maniacal laughter. The stories were pedestrian but the narrator struck a chord with the audience. His mysterious voice and background music made a promise to the listener. That promise was of adventure, intrigue, and action. Sometimes that promise was a little hard to hold up, and the show was canceled after only 52 episodes.
That mysterious narrator, however, lived on to narrate the Blue Coal Radio Revue and Love Story Hour. The mysterious narrator eventually went on to have his own show, The Shadow, but he continued to serve as a narrator and book-ended the stories.
The first person to fill the Shadow's wide-brimmed fedora was voice actor James La Curto, but he was almost immediately replaced by another voice actor, Frank Readick Jr. and much to the surprise of Street and Smith, the radio show's producers and the magazine publishers, the character of the Shadow soon became more popular than the hard-boiled stories he narrated.
SOURCES:
Murray, W., Gibson, W. B., Sampson, R., & Tinsley, T. (1980). The Duende History of The Shadow Magazine. Greenwood, MA: Odyssey.
Gibson, W. B., & Tollin, A. (1979). The Shadow Scrapbook. New York: Harcourt Brace Jovanovich.
J. (n.d.). The Shadow in Pulps: History.http://www.shadowsanctum.net/pulp/pulp.html
929, Kent Allard decided that America had become a focal point for criminal. (n.d.). Who Knows What Evil Lurks? The Shadow Knows. http://www.internationalhero.co.uk/s/shadpulp.htm
---
Noir Factory Podcast Case #020: Ida Lupino – Hollywood Legend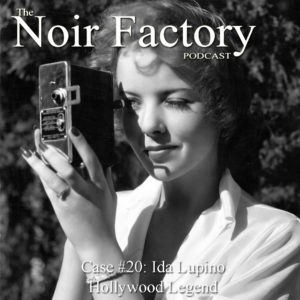 "My agent told me that he was going to make me the Janet Gaynor of England – I was going to play all the sweet roles. Whereupon, at the tender age of thirteen, I set upon the path of playing nothing but hookers." – Ida Lupino
There are certain family names in Hollywood make you sit up and take notice. Today those names are the Fonda and the Bridges, Coppola and Sheen.
It wasn't any different in the early days of Tinseltown. The names were different, but royalty was still royalty. Back then if you were a Barrymore than it caught people's attention, and if you were a Huston, then folks wanted to see what you had.
For Ida Lupino, the family tree she grew out of was just as solid and sturdy as any in Hollywood, but the roots went deeper than most. She wasn't a Coppola or a Barrymore. She was a Lupino.
And that name had a weight all of its own.
SOURCES:
Donati, W. (1996). Ida Lupino: A Biography. Lexington: The University Press of Kentucky.
Lupino, I., & Anderson, M. A. (2011). Ida Lupino: Beyond the Camera. Albany, GA: BearManor Media.
Ida Lupino, Film Actress and Director, Is Dead at 77. (1995). http://www.nytimes.com/1995/08/05/obituaries/ida-lupino-film-actress-and-director-is-dead-at-77.html
Dixon, W. W. (2015). Ida Lupino. http://sensesofcinema.com/2009/great-directors/ida-lupino/
---
Noir Factory Podcast Case #019: The Kray Twins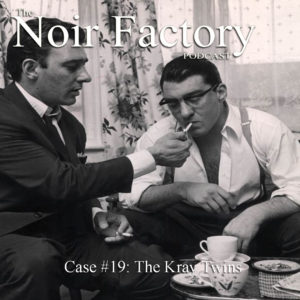 "They were the best years of our lives. They called them the swinging sixties. The Beatles were rulers of pop music, Carnaby Street ruled the fashion world…and me and my brother ruled London. We were fucking untouchable." – Ronnie Kray, from his autobiography
The East End of London during the sixties was a mixture of poor and artistic, of modern and bohemian, of classic and diversity that England had never seen before or since. It was like Bauhaus before Hitler. It was like Harlem in the 20's. It was like… well, it wasn't like anything ever, and that's what made it special.
Clubs and art galleries sprang up amid the squalor that was the East End, and with them came the rich and the beautiful. It was said, rather famously, that "London's West End has all the money and leisure and that the East End monopolizes most of the labor and nearly all of the dirt."
In the 60's it was time for the dirt in the East End to shine.
The wealthy and the influential came to the East End to rub shoulders with the infamous, the dangerous, and the notorious. There was no neighborhood in all of England that encapsulated the 60's like the East End, and all through it lurked a dark and dangerous thread that lead to a pair of twin brothers looking to make London their own.
SOURCES:
Pearson, J. (1973). The Profession of Violence; The Rise and Fall of the Kray Twins. New York: Saturday Review Press.
Cabell, C. (2002). The Kray brothers: The Image Shattered. London: Robson.
The Krays. (n.d.) http://thekrays.co.uk/
Ronnie and Reggie Kray. (2014). http://www.crimeandinvestigation.co.uk/crime-files/ronnie-and-reggie-kray
---
Noir Factory Podcast Case #018: The Cotton Club – Nightclub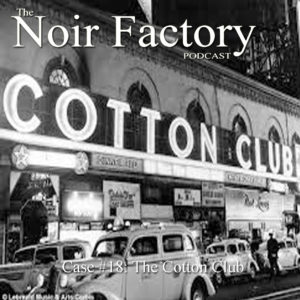 "It was infamously racially exclusive. W.C. Handy wished to go one evening to the Cotton Club and he was turned away. And he could hear his music being performed!" – Levering Lewis, historian
It was the greatest nightclub of its day and there's a convincing argument to be made that it was the greatest nightclub that ever was. Opening its doors during the Harlem Renaissance, The Cotton Club was part Speakeasy, part dance-hall, part supper club, and all entertainment.
Owned by Chicago gangster Owney Madden, the Cotton Club featured expensive food, cold beer, even during prohibition, and the greatest lineup of black entertainers in America of its time, and perhaps of any time.
And all of it was available for a small cover charge.
But only if you were white.
We can talk about the spectacle and grandeur that was the Cotton Club literally for hours. It was the greatest showplace of its day.
If a song or a band was a hit there, it was a hit in America. If a dancer killed on stage, then they made a career for themselves.
It was THE venue of its day, and one of the few available to black entertainers, but it was also a huge symbol of segregation.
SOURCES:
Haskins, J. (1977). The Cotton Club. New York: Random House.
Bruno, J. (n.d.). Joe Bruno on the Mob https://joebrunoonthemob.wordpress.com/tag/jack-johnson/
Moos Pick, M. (n.d.). Riverwalk Jazz – Stanford University Libraries. http://riverwalkjazz.stanford.edu/program/night-cotton-club-music-duke-ellington-harold-arlen-cab-calloway
---
Noir Factory Podcast Case #017: Raymond Chandler – Writer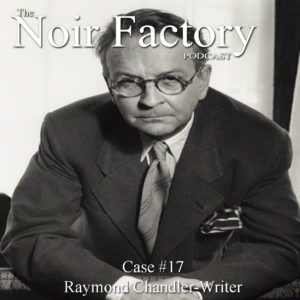 "Down these mean streets a man must go who is not himself mean, who is neither tarnished nor afraid. He is the hero; he is everything. He must be a complete man and a common man and yet an unusual man. He must be, to use a rather weathered phrase, a man of honor—by instinct, by inevitability, without thought of it, and certainly without saying it. He must be the best man in his world and a good enough man for any world."
"He will take no man's money dishonestly and no man's insolence without a due and dispassionate revenge. He is a lonely man and his pride is that you will treat him as a proud man or be very sorry you ever saw him."
"The story is this man's adventure in search of a hidden truth, and it would be no adventure if it did not happen to a man fit for adventure. If there were enough like him, the world would be a very safe place to live in, without becoming too dull to be worth living in."
-Raymond Chandler, Writer
Raymond Chandler didn't invent hard-boiled fiction. Chandler, like Dashiell Hammett, saw a new narrative forming in popular literature and they felt comfortable working in it. It was a style of detectives and dames and it rang a bell with the American public.
The school of hard-boiled literature would still exist without men like Raymond Chandler and Dashiell Hammett, but we would probably have to call it something else.
They put the word "literature" to the form, and without them, they would only be stories of "detectives and dames." They would be sensational and fun, but very little more.
Raymond Chandler wrote with elegance and grace. His dialogue was quick and intellectual and his characters were multifaceted.
To call him one of the greatest pulp writers of the twentieth century is accurate but demeaning. Quite simply, he was one of the best writers of the twentieth century, period.
SOURCES:
Freeman, J. (2007). The Long Embrace: Raymond Chandler and the Woman He Loved. New York: Pantheon Books.
Bruccoli, M. J., & Layman, R. (2002). Hardboiled Mystery Writers: Raymond Chandler, Dashiel Hammett, Ross Macdonald: A Literary Reference. New York: Carroll & Graf.
Marling, W. (n.d.). Detnovel.com. http://www.detnovel.com/Chandler.html
Pierce, J. K. (n.d.). Authors and Creators: Raymond Chandler. http://www.thrillingdetective.com/trivia/chandler.html
First published in LIMBO
---
Noir Factory Podcast Case #016: The Strand & The Black Mask – Pulp Legends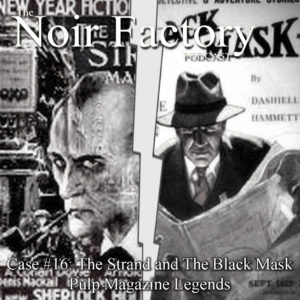 "A pulp story without a detective and, obviously, somebody for him to do battle with is unthinkable, and I can't remember reading a pulp story that didn't have a dame – either a good girl or a bad girl." – Otto Penzler
The 1890's in Europe was, for all intents and purposes, a golden age for serialized stories in print. In England Charles Dickens became the first rock star the world had ever seen, and in France, serialized versions of The Three Musketeers and The Count of Monte Cristo were spread out over hundreds of installments, making their publishers wealthy.
In one case, a German novel published in serialized form for Die Gartenlaube catapulted their circulation to over 350,000 readers in 1875.
The public was hungry for serialized literature, and the novel, thanks to writers such as Dickens and Wilkie Collins, was still in its infancy. Put those two facts together, and you were truly on to something.
In 1890 George Newnes and Editor H. Greenhough Smith founded The Strand Magazine, named for a fashionable London area. The goal of the magazine was to elevate story-telling and discourse and it attempted to appeal to mass market family readership.
From the start the magazine featured a mix of factual articles, short stories, and serialized fiction. For each issue published, George Newnes had a goal of every page having at least one picture. In 1891, this proved not only to be difficult but expensive as well. Both photography and engraving were new and pricey at the time.
From the start a popular feature of the magazine was "Perplexities," a puzzle column that ranged from difficult to maddening. It was created by mathematician and English author Henry Dudeney, who wrote the column and was considered the country's leading expert on mathematic puzzles.
The monthly magazine was well-received from the start, and the slogan for the magazine was "A monthly magazine costing sixpence but worth a shilling."
SOURCES:
Willis, C. (1998, December). History – Strand Mag. https://www.strandmag.com/the-magazine/history/
Black Mask Magazine – An American Classic… http://www.blackmaskmagazine.com/history.html
---
Noir Factory Podcast Case #015: Willie Sutton – Bank Robber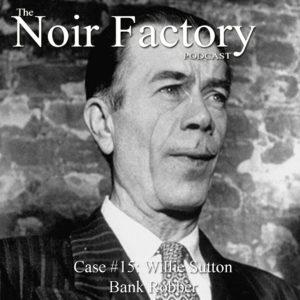 "It is a rather pleasant experience to be alone in a bank at night." –Willie Sutton-Bank Robber
William Francis "Willie" Sutton Jr. was born on June 30th, 1901 in Greenpoint, Brooklyn, a poor tenement neighborhood known at the time as Irishtown. He was the son of a blacksmith and the fourth of five children.
His mother was a devout Irish Catholic who suffered from depression, which was said to be caused by the early death of a daughter. His father, William Sr., traveled for work and was absent more times from home than not.
It was a tough time for the US, but for Irishtown in particular. Willie, a small child who was always fast, wiry, and quick-witted, left school before the eighth grade, but didn't give up on education entirely. Brooklyn in the early twentieth century was a master-class in crime for a guy who knew how to apply himself, and if Willie Sutton was anything, it was industrious.
He tried his hand early on at gainful employment, but honest work didn't seem to suit Willie. He toiled as a store clerk, a gardener, as well as a driller, but said in an interview later that his longest period of "legal" employment was 18 months.
SOURCES:
Sutton, W., & Linn, E. (2004). Where The Money Was: The Memoirs of a Bank Robber (Library of Larceny). New York: Broadway Books.
Sutton, W., & Reynolds, Q. J. (1999). I, Willie Sutton. New York: Farrar, Straus and Giroux.
Duffy, P. (2002, February 17). City Lore: Willie Sutton, Urbane Scoundrel. The New York Times.
Kiernan, J., & Desmond, J. (1952, February 19). The Day Willie (the Actor) Sutton, prolific bank robber, was arrested in Brooklyn in 1952. The New York Daily News.
---
Noir Factory Podcast Case #014: Eliot Ness – Untouchable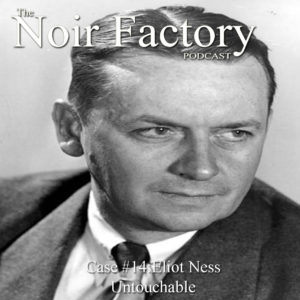 "Doubts raced through my mind as I considered the feasibility of enforcing a law which the majority of honest citizens didn't seem to want." – Eliot Ness, American Lawman
Even as a boy Eliot Paul Ness seemed destined for excellence and if you asked his fellow students, probably seemed most likely to be a crime fighter. He was the youngest of six siblings born to Peter and Emma Ness, a Norwegian immigrant couple that operated a small bakery in Chicago.
Eliot Ness was a bookish young man and a good student, with a reputation for a neat appearance as well as being a loner. As a kid he grew up with a healthy appetite for Sherlock Holmes mysteries and as a son, he kept his nose to the grindstone. He occasionally helped his family out with their bakery, but his parents had bigger plans for their children.
He attended Christian Fenger High School in Chicago where he graduated in the top third of his class. There he was an average athlete who didn't seem to care for team sports.

After high school he attended the University of Chicago, where he was a member of the Sigma Alpha Epsilon fraternity. He also excelled at tennis, a sport where he had only himself to rely on. He grew to appreciate mental discipline, and took up Jujitsu as a hobby.
Again he graduated in the top third of his class and received a dual bachelor's degree in political science and business. Despite the success he saw in college, he was characterized as a loner.
SOURCES:
Perry, D. (2015). Eliot Ness: The Rise and Fall of an American Hero (Reprint Ed.). London: Penguin Books.
Ness, E., & Fraley, O. (1987). The Untouchables -The Real Story. New York: Pocket Books.
Heimel, P. (1997). Eliot Ness: The Real Story. Coudersport, PA: Knox Books.
G. E., Ph.D. (2011). The Last Boy Scout: Eliot Ness' Tenure as Cleveland, Ohio's Public Safety Director. International Journal of Humanities and Social Science, 1(12), 14-21. Retrieved from http://www.ijhssnet.com/journals/Vol_1_No_12_September_2011/3.pdf
Eliot Ness. (n.d.) http://www.babyfacenelsonjournal.com/eliot-ness.html
Eliot Ness. (n.d.).http://www.myalcaponemuseum.com/id194.htm
---
Noir Factory Podcast Case #013: Bugsy Siegel – American Gangster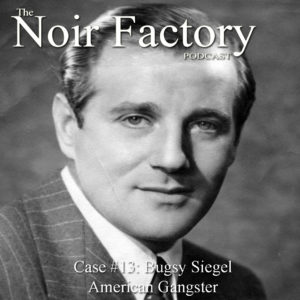 "There's no such thing as good money or bad money. There's just money."
-Benjamin Siegel, Gangster
Benjamin "Bugsy" Siegel was born in Williamsburg, Brooklyn, to a family of poor Jewish immigrants who came from Eastern Europe. His parents, Max and Jennie, worked whatever jobs they could find to provide for their five children, and their neighborhood constantly invented new definitions for the word "Poor."
As a child, the second of five, Benjamin saw that struggle as well as what his parents struggled against, and he vowed that he would rise above a life of poverty.
He dropped out of school somewhere around the age of eleven and started his life of crime. Even as a child he was familiar with violence and intimidation, learning most of what he knew from the Irish and Italian street gangs around him.


SOURCES:
Gragg, L. D. (2015). "Benjamin "Bugsy" Siegel: The Gangster, the Flamingo, and the Making of Modern Las Vegas"
Anhalt, E. (1992). Bugsy Siegel: We Only Kill Each Other., Pocket Books
Bugsy Siegel. (n.d.). https://vault.fbi.gov/Bugsy Siegel
Biography.com Editors. (n.d.). Bugsy Siegel. http://www.biography.com/people/bugsy-siegel-9542063
---
Noir Factory Podcast Case #012: Mata Hari – Femme Fatale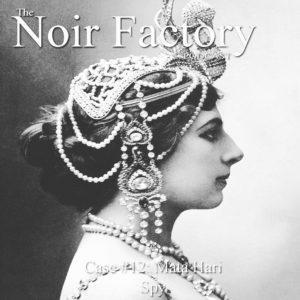 "I am a woman who enjoys herself very much; sometimes I lose, sometimes I win."
-Mata Hari, spy
The name brings visions of a dancer, slithering through a smoke-filled Arabic parlor, wisps of cloth snaking over her as she moves. Her eyes are like polished opals in the moonlight, dark, mysterious, and you can't bring yourself to look away.
You dare not look away.
Okay it probably didn't play out exactly that way, but I imagine that is how she would have enjoyed being remembered, so let's go with that.
There are many questions that still linger about her. The easiest is "was she guilty?"
The answer is obvious. She was Mata Hari, and she was as guilty as sin.
What was she guilty of?
Well, that takes a lot more thought, and we may never have the answer to that.


SOURCES:
Shipman, P. (2008). Femme fatale: Love, Lies, and the Unknown Life of Mata Hari. New York: Harper Perennial.
Rammelkamp, C. (n.d.). Mata Hari: Eye Of The Day. Baltimore: Apprentice House.
(2002, January). http://www.pbs.org/wgbh/nova/venona/dece_hari.html
Rennell, T. (2007, August 10). Mata Hari was only interested in one thing – and it wasn't espionage. Retrieved May 20, 2016, from http://www.dailymail.co.uk/femail/article-474631/Mata-Hari-interested-thing–wasnt-espionage.html
---
Noir Factory Podcast Case #011: Dick Tracy – Crimestopper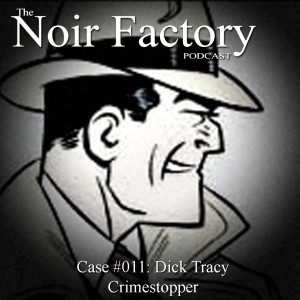 "I can't think of a better man to draw Dick Tracy than Chester Gould. He told the story of Dick Tracy. He told the story of Dick Tracy the way it should have been told. No other guy could have done it. It's not in the draftsmanship, it's in the man." – Jack Kirby, Artist
He was born in Pawnee, Oklahoma in 1900, seven years before the territory became a state. His grandparents, all four of them, were pioneers of the territory. His father, Gilbert was a minister and a printer. Gilbert Gould was everything a small town in a harsh territory needed him to be, but mostly he was a man who believed in a good story.
He was also the editor of the local newspaper, and he loved his politics.
Little Chester Gould was born in the last year of the nineteenth century and Gilbert raised him on a steady diet of newsprint. The young man fell head over heels for comics, and like most boys his age, followed the daily adventures of Budd Fisher's comic strip misfits "Mutt and Jeff" with fierce loyalty.

In 1908 the Democratic County Convention came to the Pawnee Courthouse and Gilbert Gould covered the story for his paper. He also encouraged his son, who was already beginning to show his chops as an artist, to sketch some of the local politicians.
Chester's talent was evident even then, and his father taped his son's sketches of the lawyers to the courthouse windows. One of the lawyers, who went on to the Supreme Court, was impressed enough to buy one of the drawings.
There doesn't seem to be any indecision in Chester Gould's early life regarding his fate to be an artist. While he was still in grade school he studied cartooning through a correspondence course.
SOURCES:
The Chester Gould Dick Tracy Museum. (n.d.) http://www.chestergould.org/
O'Connell, J. G. (2007). Chester Gould: A Daughter's Biography Of The Creator Of Dick Tracy. Jefferson, NC: McFarland.
Chester Gould. (n.d.) from http://comicvine.gamespot.com/chester-gould/4040-9218/
Dick Tracy Depot – A depot of information gathered from the Dick Tracy comics found in newspapers with information on early films, radio and books. (n.d.). from http://dicktracy.info/
---
Noir Factory Podcast Case #010: Bonnie and Clyde – American Outlaws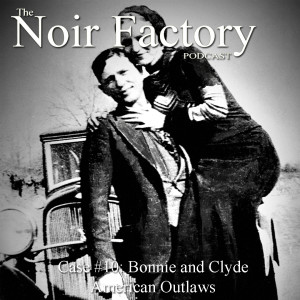 Letter to Henry Ford on April 10, 1934…
Dear Sir,
While I still have breath in my lungs I will tell you what a dandy car make. I have driven Fords exclusively when I could get away with one. For sustained speed and freedom from trouble the Ford has got ever other car skinned and even if my business hasn't been strictly legal it don't hurt anything to tell you what a fine car you got in the V8.
Yours truly,
Clyde Champion Barrow
Clyde Chestnut Barrow was the fifth of seven children born to a poor faming family in Telico, Texas on March 24th, 1909. To describe his parents, Henry and Cumie Barrow as "poor" would be charitable. They were tenant farmers who could barely make enough money to feed their children. In his youth, Clyde and his siblings were often sent to live with other relatives just to survive.
The family moved to West Dallas when Clyde was twelve due to lack of work and resentment from nearby land owners against tenant farmers. The family spent their first months in Dallas living out of their horse-drawn wagon until Henry could save up enough money to buy a tent to live in.
Eventually Henry Barrow saved enough to open a gas station and things looked up for the dirt-poor Barrow family. The family was together, had a roof over their heads, of a type, and were making an income, which wasn't an easy feat in the south during the 1920's.
Even young Clyde Barrow was taking odd jobs and saving a tiny bit of money. But Clyde was also a teenager, and a romantic teenager at that, and he had plans bigger than the poor, rough neighborhood of West Dallas.
He longed for adventure and freedom and a chance to see the world beyond West Texas. During his teenage years he tried to enlist in the navy but was turned away due to severe childhood illnesses. That must have really smarted to young Clyde Barrow, who had already given himself a tattoo on his left arm that read "USN."
Smarting over the break-up, Clyde rented a car to visit a girl who had broken up with him weeks earlier. The girl's mother refused to let Clyde see her and he left, dejected. So dejected, in fact that he failed to return the rental car to the agency. Young Clyde Barrow was arrested for the first time at the tender young age of sixteen. The charges were dropped, but the arrest remained in his file, as did the mug-shot of a cocky sixteen year old.
SOURCES:
Guinn, J. (2009). Go Down Together: The True, Untold Story of Bonnie and Clyde. New York: Simon & Schuster.
Barrow, B. C., & Phillips, J. N. (2004). My Life with Bonnie and Clyde. Norman: University of Oklahoma Press.
https://www.fbi.gov/about-us/history/famous-cases/bonnie-and-clyde (2010)
http://www.biography.com/people/groups/bonnie-and-clyde
---
Noir Factory Podcast Case #009: Dame Agatha Christie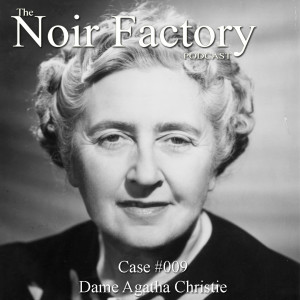 "Women are the ones who knows what's going on," she said quietly. "They are the ones with eyes. Have you not heard of Agatha Christie?" – Alexander McCall Smith, The No.1 Ladies Detective Agency
Agatha Christie was the bestselling author of all time, and living in the days of Stephen King and J.K. Rowling, that means something. In literature, it goes the Bible, Shakespeare, and Christie.
In short, she is what legends in mystery writing aspire to be.
But it wasn't always like that for her.
When you look at Agatha Christie's story, is helps to know something about her mother, Clara Boehmer. Clara was the only daughter of a military man and an Englishwoman. She had older brothers, one of which died very young, but they had left home to join the armed forces or to make their own way in the world.
But Clara was the youngest and she stayed behind at the family's home in Belfast, Ireland. At least, as long as she could.

Clara was still very young when her father, a captain, died in a riding accident. Her mother scraped by on a meager income and could barely support herself, let alone her daughter. So in her daughter's best interests, she sent her to live with her aunt in West Sussex. Clara's aunt had married a wealthy American, so the move not only kept young Clara from poverty, but it opened up a whole new world for her.
The couple introduced Clara to society, as well as to a young American stockbroker who had originally come to Europe to finish his education.
Frederick Aluah Miller was raised in the upper class of American culture, and he seemed born to be a man people trusted with their money. He was friendly, personable, attractive, and right from the start, young Clara seemed quite smitten.
They were married in April of 1878 and lived in Torquay, an English seaside village.
The couple's first child, Margaret Frary Miller, was born a year after they were married, followed by their son, Louis Montant Miller, or "Monty," a year later. They settled into the seaside village and brought a villa they called "Ashfield." The couple settled in and Clara spent the next decade raising her children there.
Then came the "mystery" of Agatha Christie.
SOURCES:
Christie, A. (2011). An Autobiography. New York, NY: Harper.
Christie, A., & Prichard, M. (n.d.). The Grand Tour: Around the World with the Queen of Mystery
http://www.agathachristie.com/
---
Noir Factory Podcast Case #008: Alcatraz Island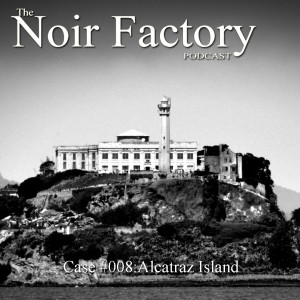 "Break the rules and you go to prison. Break the prison rules and you go to Alcatraz."-Anonymous
Sitting about a mile and a half off San Francisco in the middle of a bitter, inhospitable California bay, Alcatraz Island is a lot like many other pieces of bay area real estate. Many have claimed ownership and many court battles were waged over ownership.
But unlike other prime pieces of San Francisco real estate, few have wanted to call it home. The Island, Alcatraz Island, is also known as "The Rock." And those who did call it home didn't care for the experience.
The island, one of a group of small islands sitting in the bay, was known to the Native American population of the area but was not inhabited by them.

In truth, there was nothing to lure them, or anyone else, to the rock. Vegetation was almost non-existent. The island was composed mostly of irregular, stratified sandstone. It was described by an American officer as "entirely without resources within itself and the soil scarcely perceptible being rocky and precipitous on all sides."
The rock itself was 1700 feet long, 580 feet at its widest side, with two peaks of about 130 feet each. It measured a total of 22 acres.
There was nowhere on the island to land a boat, no beach or shore, and the rock was overwhelmed by birds. So much so that Juan Manuel DeAyala called it "La Isla De Los Alatraces," or "Island of the Pelicans."
So while the island had nothing really going for it, the real estate did have three things in its favor: location, location, location.
SOURCES:
Ward, D., & Kassebaum, G. (2009). Alcatraz: The Gangster Years. Berkeley: University of California Press.
Esslinger, M. (2003). Alcatraz: A Definitive History of the Penitentiary Years. San Francisco, Calif.: Ocean View Pub.
Wellman, G. (2008). History of Alcatraz Island, 1853-2008 (Images of America: California). Charleston, S.C.: Arcadia Pub.
Welcome to Alcatraz History. (2016). http://www.alcatrazhistory.com
---
Noir Factory Podcast #007: The Great Christmas Bank Heist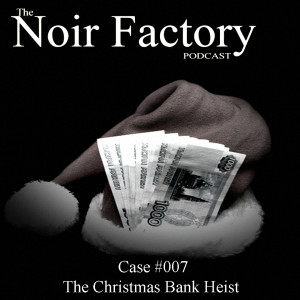 (This first appeared as the blogpost "The Great Santa Claus Bank Robbery – An A.P.B. On Old Saint Nick")
As a crispness fills the air and the scent of gingerbread begins to waft from the kitchen, one only has to pull on an ugly sweater and curl up with a tablet to find some old-fashioned, weird Christmas crime.
And as always, Texas is as good a place to start as any.
In 1929 banks in Texas fell victim to robbers almost daily, and it was with an eye to protect what was theirs that the Texas Bankers Association offered a reward of $5,000 to anyone who killed a bank robber in the course of a crime.
SOURCES:
Greene, A. (1999). The Santa Claus Bank Robbery (Rev. ed.). Denton, Tex.: University of North Texas Press.
SANTA CLAUS BANK ROBBERY. (n.d.) from https://tshaonline.org/handbook/online/articles/jbs02
---
Noir Factory Christmas Special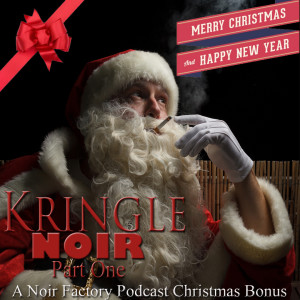 Merry Christmas and a Happy New Year from the Noir Factory…You Mugs!
Our bonus two-part Christmas story staring the Noir Factory's unnamed detective. Consider this bit of fiction a break from our normal programming.
Next time, we'll be back with a real-life bad Santa, but in the meantime, spike some eggnog and enjoy….
PART ONE / CHAPTER ONE
When I was a kid Christmas was a big thing. My brothers and I used to hang stockings up near the fireplace, sing songs, and pretend to sleep while mom and pop gave Santa a helping hand.
Sometime around three in the morning we managed to actually fall asleep, and when we woke we found a Christmas tree flush with presents that, while maybe weren't what we'd asked for, were exactly what we wanted. Pop took the day off and mom cooked a goose.

The kids took turns swiping toys from each other, screaming, laughing, and creating the kind of ruckus that kids can only get away with on Christmas day.
It was a great time to be a kid, but I was no longer a kid.
Yeah, all right, it was still a great time of the year.
I got to my office and found a note from Jimmy Two-Fingers, a criminal and reprobate I had known for most of my life. It said to meet him that evening in the city square at eight o'clock sharp and hinted that he needed help. It also asked me to bring the fifth of bourbon that I kept in the bottom drawer of my file cabinet, filed under "N" for "Necessity."
Jimmy might have been a reprobate and a criminal, but he was also a friend, and he knew me well.
---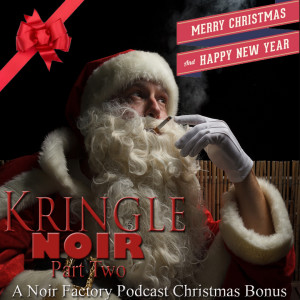 PART TWO / CHAPTER FOUR
It took me a while to catch up with Mike McCarthy. He was the Special Investigator for the District Attorney, which meant that he played catcher to all the screwballs that came across the court system.
If a crime was reported or investigated, he knew about it. The only variable was that not all of the crimes in the city were reported or investigated.
If you knew the system under the system, you could get something buried so deep that it turned to crude oil.
******
You can get your FREE eBook version of Kringle Noir on Amazon and Kobo. If you would like to share the story over the years, as well as help support the Noir Factory, you can order your paperback version of Kringle Noir at Amazon.
---
Noir Factory Podcast #006: The Subject of Fingerprints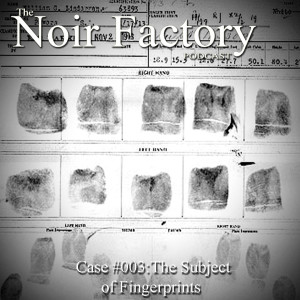 It's hard to tell where exactly the story begins because there was no huge discovery.
At the tips of your fingers there are marks. Loops and swirls, whorls and arches. It was kind of like telling the world that you were the first to discover… your belly button.
It just didn't go over well, but unlike your belly button, the patterns on the tips of fingers meant more than just a physical oddity. The patterns on your fingers tell a story.
But yeah, I guess so does your belly button.
SOURCES:
Beavan, C. (2001). Fingerprints: The Origins of Crime Detection and the Murder Case that Launched Forensic Science, New York: Hyperion.
Sir Francis Galton F.R.S: 1822-1911. (n.d.), from http://www.galton.org/
Fingerprint. (2013, January 29), from https://www.fbi.gov/about-us/cjis/fingerprints_biometrics/biometric-center-of-excellence/modalities/fingerprint
Follow us on Facebook to suggest episode ideas, comment on our blog, and if you feel up to it, leave a review on iTunes.
---
Noir Factory Podcast #005: John Dillinger – Public Enemy Number One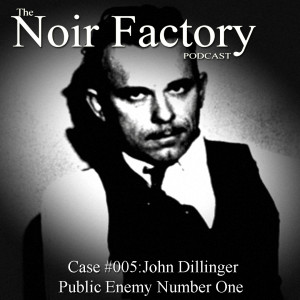 In the 30's, the FBI used the term "Public Enemy Number One" as a designation of infamy. Although that period in time became known as the "Public Enemy Era," there were only three people actually held that designation.
The first one wore the title like a crown.
John Herbert Dillinger was born in Indianapolis, Indiana on June 22nd, 1903. His father, John Wilson Dillinger, owned a small grocery store. His mother, Mary Ellen, died from a stroke when he was three.
His sister, Audrey, was fourteen years older than John and the responsibility of caring for the child fell to her. She carried on with that responsibility until she married and moved out to begin her own family.
That left John Wilson Dillinger to raise his son on his own, and raising kids wasn't his strong suit.
Accounts of John Dillinger's childhood vary. His father was at times abusive and at other times gracious, lavishing money on his son for toys and treats. Those same accounts vary on John Dillinger's behavior.
Some say that the young Dillinger was a well-behaved child with a precocious streak. Others point to his childhood gang, the Dirty Dozen and their purchase for mischief. He also gained a reputation as a baseball player. For most of his life, John Dillinger would walk the line between fame and infamy.
By the time he reached his teenage years, he was on his way to becoming his own man.
But he was a HUGE character, and the more I read about him, the more a part of me wanted to see him succeed.
In his heyday, most people did.
SOURCES:
Matera, D. (2007). John Dillinger: The Life and Death of America's First Celebrity Criminal (Barnes & Noble ed.). New York: Barnes & Noble.
Toland, J. (1995). The Dillinger Days. New York: Da Capo Press.
John Dillinger. (2010, May 21). https://www.fbi.gov/about-us/history/famous-cases/john-dillinger
John Dillinger Biography. (n.d.) http://www.biography.com/people/john-dillinger-9274804
---
Noir Factory Podcast #004: A Brief History of the K9 Corp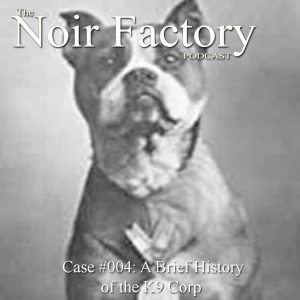 The partnership between mankind and canine is one of the oldest and most successful relationships on Earth. Every since early man sat around a fire and tossed scraps of meat to a curious gray wolf, the relationship between the two was based on trust.
Virtually all breeds of dogs stem from the gray wolf and they have been tied to mankind ever since.
It isn't just by accident that the scientific name for the dog is Canis Lupus Familliaris . The canine has been man's constant companion for centuries, and with apologies to cat lovers everywhere, they have earned the nickname "man's best friend."
SOURCES:
Lemish, M. (1999). War Dogs: A History of Loyalty and Heroism. Washington, D.C.: Brassey's.
Russell, J. (2012). Trust Your Dog: Police, Firefighters, and Military Officers Talk About Their K-9 Partners United States: Lindholm Press.
Sloane, C. (n.d.). Dogs in War, Police Work and on Patrol. http://scholarlycommons.law.northwestern.edu/cgi/viewcontent.cgi?article=4393&context=jclc.
Follow us on Facebook to suggest episode ideas, comment on our blog, and if you feel up to it, leave a review on iTunes.
---
Noir Factory Podcast #003: Black Bart – Outlaw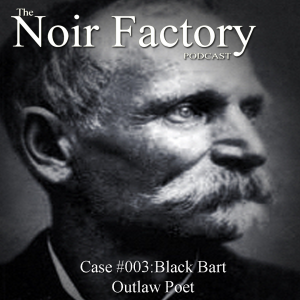 Life changed quickly for the people of Norfolk County, England in the 1800's. The large estates were falling. The families of privilege, who employed large households full of servants, often for life, grew more scarce by the day.
John and Maria Bowles could see the writing on the walls, so to speak. Their way of life, their means of support, was going away, never to return. They had to make some big decisions. With a meager savings and nine children in tow, they made their way across the ocean, to the land of second chances.
They went to America.
What they found there was farmland, and they were used to that. With many strong sons, enough funds to buy some land, and the vision to use the resources they had, the Bowles family settled into Jefferson County, in upstate New York, and grew their farm to a 100-acre homestead.
And the man who would become Black Bart grew up the farm outside of Plessis Village, with much grander dreams than a life of working the soil.
Born Charles Earl Bowles, Charlie was two when his family immigrated to America from England. He was a strong child and athletic child, but smaller than the rest of his family.
SOURCES:
Black Bart California's Infamous Stage Robber. (n.d.). http://www.blackbart.com/
The Story of Charles E. Boles aka Black Bart. (n.d.).
http://www.sptddog.com/sotp/bbpo8.html
Hoeper, G. (1995). Black Bart: Boulevardier bandit. Fresno, CA: Word Dancer Press.
Collins, W., & Levene, B. (1992). Black Bart: The true story of the West's most famous stagecoach robber. Mendocino, Calif.: Pacific Transcriptions.
Follow us on Facebook to suggest episode ideas, comment on our blog, and if you feel up to it, leave a review on iTunes.
---
Noir Factory Podcast #002: Mickey Spillane – Writer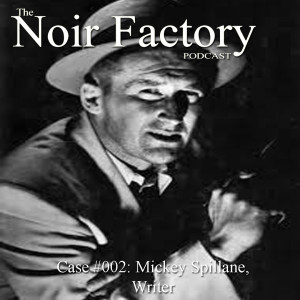 He was born on March 9, 1918 in Brooklyn, New York and raised in Elizabeth, NJ, in a neighborhood he called "grimy, industrial, and working class." It was exactly the kind of neighborhood you would expect a tough-guy to grow up in.
Mickey Spillane was christened Frank Morrison Spillane by his Protestant mom, Catherine Ann. Apparently his Catholic father, John Joseph wasn't having any of that. Whether he didn't care for the name "Morison" or simply forgot his son's middle name we'll never know, but he was baptized as "Frank Michael Spillane.
Not that that either name mattered.
His father nicknamed his son "Mick" after his Irish heritage and the name stuck. Besides, as the man said later "women loved the name 'Mickey.'"
SOURCES:
Mike Hammer. (n.d.). http://www.thrillingdetective.com/hammer.html
Authors and Creators: Mickey Spillane. http://www.thrillingdetective.com/trivia/spillane.html
Spillane, M. (2015). I, the jury. S.l.: Orion.
Hopwood, J. (n.d.). Biography. http://www.imdb.com/name/nm0818765/bio
Brnstein, A. (2006, July 18). Mickey Spillane; Tough-Guy Writer Of Mike Hammer Detective Mysteries. http://www.washingtonpost.com/wpdyn/content/article/2006/07/17/AR2006071700990.html
Follow us on Facebook to suggest episode ideas, comment on our blog, and if you feel up to it, leave a review on iTunes.
---
Noir Factory Podcast #001: Kate Warne – America's First Female Detective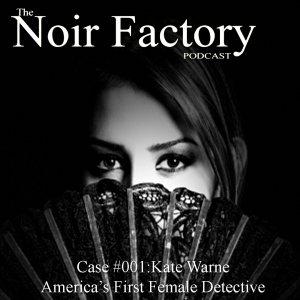 When the door opened at the Pinkerton Detective Agency on August 23rd, 1856, Allan Pinkerton, the legendary chief of the most famous detective shop in history, had no idea what lay ahead of him.
She was, as Allan later described her, "A commanding person, with clear cut, expressive features." He said he wouldn't call her handsome, but a "slender, brown-haired woman, graceful in her movements and self-possessed." He also said that she was of an "intellectual cast."
Despite holding her in high regard upon meeting her, however, it never occurred to Pinkerton that she was there for a detective job.
SOURCES:
Celebrating Women's History: America's First Female P.I. (n.d.). http://blogs.loc.gov/loc/2015/03/celebrating-womens-history-americas-first-female-p-i/
Civil War Women. (n.d.). http://civilwarwomenblog.com/kate-warne/
Derrig, J. (2014). Pinkerton's First Lady – Kate Warne: United States First Female Detective. Mother Spider Designs, LLC.
Follow us on Facebook to suggest episode ideas, comment on our blog, and if you feel up to it, leave a review on iTunes.
---
Noir Factory Podcast #000: A Tour of the Offices of the Noir Factory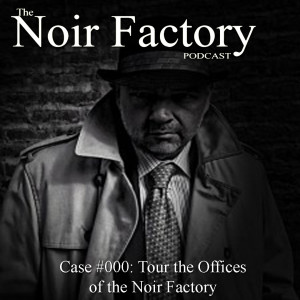 There's a creak at the door, the smell of burnt coffee in the air and a forty-five buried in a desk drawer somewhere under six months of overdue bills.
A knock on the door reveals a woman in black. She's high-couture danger wearing a stylish hat at a rebellious angle. She cradles a cigarette holder with two fingers and between the smoke and her chapeau, her eyes are a pair of diamonds in a sea of shadows.
She sits down and tells her story with the smoothness of fourteen year-old scotch. There's a bit of sincerity in her tale, dancing on the surface, like a buoy over a rough sea of lies.
You start to say that you aren't interested, that she should peddle her fish elsewhere when the sound of a trigger being pulled back captures your attention.
Welcome to the offices of the Noir Factory!
Follow us on Facebook to suggest episode ideas, comment on our blog, and if you feel up to it, leave a review on iTunes.
Oh, and bribery works really, really well.