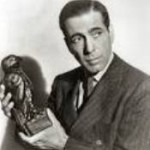 Win "The Stuff that Dreams Are Made Of!"
As the agency winds down into the final phase of Taco Noir (and by final phase I mean that it's at the printers), what better way to kick this thing off than an evening of books, good food, and a movie about a grown man in a monkey suit?
Dinner with a Detective
Join local mystery writer and fictional detective Steven Gomez at Alchemy Café on Thursday, June 7th for the debut of Taco Noir – Tales of Culinary Crimes.
Your $25 dollar ticket gets you a signed copy of the Noir Factory's first publication- Taco Noir –  Tales of Culinary Crime. Each ticket holder also gets a free E-book of the novella "Lefty and the Boxcar," a reading from one of the Taco Noir mysteries, and – last but not least – a screening of the classic Bela Lugosi flick "The Gorilla," guest starring the Ritz Brothers.
A steal at twice the price!
And if that weren't enough to tempt you, before the screening each ticket holder is also eligible to win prizes in the first-ever Noir Factory Raffle!  There will be mystery-themed prizes galore, with the grand prize being "the stuff that dreams are made of" – a reproduction of noir fiction's most treasured icon – The Maltese Falcon!!!
Doors open at 6:30PM. You can reserve your spot by going here, or by giving the office a call at (209) 915-9138.
(If arrested, please destroy this post!)