No fatalities reported
The sounds of a deliberate jazz baseline heralded in the first of a series of literary offenses to be perpetrated by the make-believe detective agency known as the Noir Factory. A small but cozy mob welcomed mystery writer and Chief Investigator Steven Gomez. As he took the stage, Gomez welcomed his accomplices to the scene as they enjoyed microbrew pilsners and Black Sheep Zinfandel.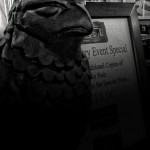 As the dedicated crew at Alchemy served up sinfully rich Crab Macaroni and Cheese, crispy fried Calamari, and fresh Prawns, the scribe from the Noir Factory unfolded the Case of the Awkward High Note from the debut of Taco Noir, Tales of Culinary Crime.
After the reading, guests were treated to the first Taco Noir raffle, with the grand prize, a reproduction of the Maltese Falcon, going to a longtime supporter and friend of the agency. Reports of any curse on the statue have not been substantiated.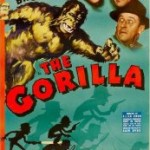 The evening concluded with a screening of The Gorilla, a classic comedy who-done-it featuring Bela Lugosi, the Ritz Brothers, and a gorilla suit. The movie, a power-house in its day, is considered by the Noir Factory to be the "Citizen Kane" of gorilla suit comedy who-done-its.
Gomez thanked his guests as they left, shutting down the café as they did so. As the last of his accomplices left the building, the staff locked up and began to count the silverware. As the agency loaded up their wagon and moved back to HQ, Gomez remarked that it they had indeed not seen the last of him.
(Destroy this post if arrested)