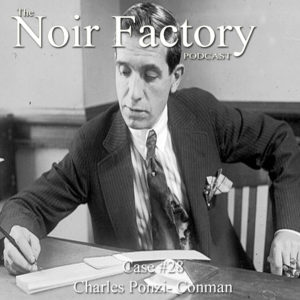 "Even if they never got anything for it, it was cheap at that price. Without malice aforethought I had given them the best show that was ever staged in their territory since the landing of the Pilgrims! It was easily worth fifteen million bucks to watch me put the thing over." – Charles Ponzi
Carlo Pietro Giovanni Guglielmo Tobaldo Ponzi was born in Lugo, Italy in 1882 and did the world a favor, one of very few, by changing his name to Charles Ponzi.
He came from a family that was at one time well-to-do but, by the time of Charles' birth, had fallen onto hard times. His mother used the title "Dona" before her name, an honorific usually reserved for the upper-tier of Italian society, but the title was a holdover from days long gone.
The Ponzi family had, by all reports, fallen onto hard times.

Charles Ponzi himself was a charming and likeable fellow who was an less-than-average student who was interested in good times a little more than schoolwork. After he graduated primary school he took a job as a postal worker, but left it when he was accepted at the University of Rome La Sapienza.
While he "studied" there, and because this is a podcast I'll tell you I just used "air quotes," he fell in with the children of wealth and leisure.
They treated their time at the university like a four-year holiday and Charles was more than happy to do the same. He hung out with the "beautiful people" in bars,cafes, and concerts, and he considered himself to be every bit as privileged as they were.
He ended his career at the university, however, flat broke with very little to show for it.
The one thing he did learn from his time at school was that young men were traveling to the US and returning wealthy.
SOURCES:
Zuckoff, M. (2005). Ponzi's Scheme: The True Story of a Financial Legend. New York: Random House.
Dunn, D. H. (2004). Ponzi: The Incredible True Story of the King of Financial Cons. New York: Library of Larceny.
Trex, E. (2008, December 23). Who was Ponzi — what the heck was his scheme? http://edition.cnn.com/2008/LIVING/wayoflife/12/23/mf.ponzi.scheme/
Darby, M. (1998, December 01)In Ponzi We Trust. http://www.smithsonianmag.com/history/in-ponzi-we-trust-64016168/