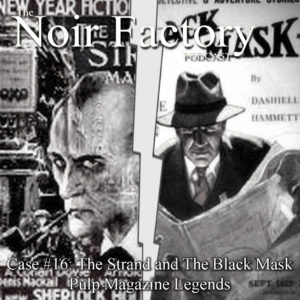 "A pulp story without a detective and, obviously, somebody for him to do battle with is unthinkable, and I can't remember reading a pulp story that didn't have a dame – either a good girl or a bad girl." – Otto Penzler
The 1890's in Europe was, for all intents and purposes, a golden age for serialized stories in print. In England Charles Dickens became the first rock star the world had ever seen, and in France, serialized versions of The Three Musketeers and The Count of Monte Cristo were spread out over hundreds of installments, making their publishers wealthy.
In one case, a German novel published in serialized form for Die Gartenlaube catapulted their circulation to over 350,000 readers in 1875.
The public was hungry for serialized literature, and the novel, thanks to writers such as Dickens and Wilkie Collins, was still in its infancy. Put those two facts together, and you were truly on to something.

In 1890 George Newnes and Editor H. Greenhough Smith founded The Strand Magazine, named for a fashionable London area. The goal of the magazine was to elevate story-telling and discourse and it attempted to appeal to mass market family readership.
From the start the magazine featured a mix of factual articles, short stories, and serialized fiction. For each issue published, George Newnes had a goal of every page having at least one picture. In 1891, this proved not only to be difficult but expensive as well. Both photography and engraving were new and pricey at the time.
From the start a popular feature of the magazine was "Perplexities," a puzzle column that ranged from difficult to maddening. It was created by mathematician and English author Henry Dudeney, who wrote the column and was considered the country's leading expert on mathematic puzzles.
The monthly magazine was well-received from the start, and the slogan for the magazine was "A monthly magazine costing sixpence but worth a shilling."
SOURCES:
Willis, C. (1998, December). History – Strand Mag. https://www.strandmag.com/the-magazine/history/
Black Mask Magazine – An American Classic… http://www.blackmaskmagazine.com/history.html