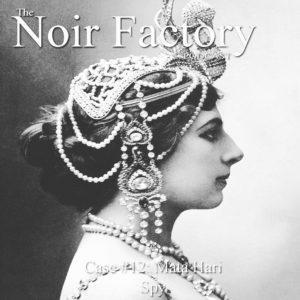 "I am a woman who enjoys herself very much; sometimes I lose, sometimes I win."
-Mata Hari, spy
The name brings visions of a dancer, slithering through a smoke-filled Arabic parlor, wisps of cloth snaking over her as she moves. Her eyes are like polished opals in the moonlight, dark, mysterious, and you can't bring yourself to look away.
You dare not look away.
Okay it probably didn't play out exactly that way, but I imagine that is how she would have enjoyed being remembered, so let's go with that.
There are many questions that still linger about her. The easiest is "was she guilty?"
The answer is obvious. She was Mata Hari, and she was as guilty as sin.
What was she guilty of?
Well, that takes a lot more thought, and we may never have the answer to that.


SOURCES:
Shipman, P. (2008). Femme fatale: Love, Lies, and the Unknown Life of Mata Hari. New York: Harper Perennial.
Rammelkamp, C. (n.d.). Mata Hari: Eye Of The Day. Baltimore: Apprentice House.
(2002, January). http://www.pbs.org/wgbh/nova/venona/dece_hari.html
Rennell, T. (2007, August 10). Mata Hari was only interested in one thing – and it wasn't espionage. Retrieved May 20, 2016, from http://www.dailymail.co.uk/femail/article-474631/Mata-Hari-interested-thing–wasnt-espionage.html